Food: one of the most essential as well as beneficial products for all of us. We all know how important food is. Most of us also might know the profitability of the Food Business. Especially in countries like India, the demand for food is great and the business opportunities are also huge. Thus, if you are planning to start a food business or already have a food business, you must know about the ISO Certification. In this article, we will know about the Advantages of ISO Certification for Kitchen. We will also understand the process to achieve ISO Certification in India.
Why is ISO Certification for kitchen important?
Kitchens in any food establishment play a significant role in overall food quality. Furthermore, in a kitchen, a variety of dangerous equipment such as cylinders, chicken grinders, knives, and electric knives, etc. are involved.
Similarly, unhygienic kitchen conditions lead to a variety of diseases for both the cook as well as the consumer. If proper packaging or food storage capacity measures aren't available, food can turn stale and can cause a serious loss to the food business.
Thus, the need for standards is inevitable. The above-mentioned points make ISO Certification a must-have achievement to keep your business safe as well as profitable in the long run.
What is ISO?
The International Organization for Standardisation (ISO) creates and publishes standards for excellent management systems that are internationally recognized. The ISO has members from more than 150 countries. These members are experts from their national standardization body. Hence, the ISO acts as a global platform to provide global standards that can be valid worldwide. What is ISO 22000 Certification?
All food manufacturers, regardless of size or product, have this role to play in maintaining the quality of their food and the well-being of their customers. That is why ISO 22000 Certification and Standards were created.
The outcomes of consuming unsafe food may become severe. ISO's food safety management standards assist firms in identifying and controlling food safety concerns while collaborating with other ISO management standards such as ISO 9001.
ISO 22000, which is applicable to all sorts of manufacturers or kitchens, adds a layer of confidence to the entire supply chain, allowing items to safely navigate borders and providing consumers with food that they can trust. Thus, In simple words, ISO 22000 Certification is an achievement reward after applying a Food Safety Management System(FSMS).
What is ISO 9001 Certification?
ISO 9001 Certification is a global standard that establishes best practices for quality management systems (QMS). It establishes a framework for businesses to improve quality in order to deliver products and services that meet the requirements and expectations of all present and potential customers in the most efficient and effective way achievable. It's a comprehensive standard that can be applied to a variety of situations, such as assisting businesses in the international expansion where customers need ISO certification, minimizing downtime throughout an organization by changing or simplifying processes, and lowering operating costs.
What are the Advantages of ISO Certification for Kitchen
There are various advantages of having ISO Certification in India for every kind of business. The Advantages of ISO Certification for Kitchen are plenty and the most important to know are as follows.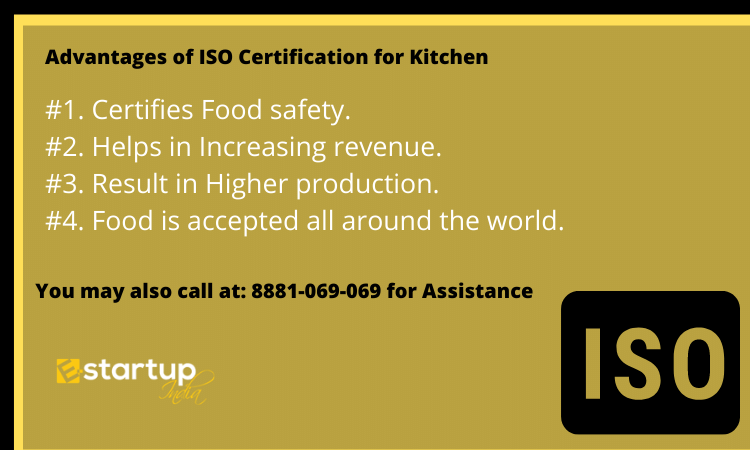 ISO 22000 is a standard that sets and certifies the standards for a food safety management system. It outlines what an organization must do to demonstrate its ability to handle food safety risks and ensure the safety of its goods. It may be used by any business, regardless of size or position in the food chain.
provides organizations higher food safety and security, keep revenues from declining, and may be linked with other management system standards, such as ISO 9001, for maximum quality benefits
Implementing ISO standards enables businesses to function more efficiently, resulting in higher production. ISO certification is also a globally recognized standard. As a result, ISO-certified organizations are recognized all over the world.
Clients can use the Food Safety Management Services Certifications to establish a systematic approach to analyzing food operations, recognizing possible hazards, and defining critical control points. As a consequence, food from your kitchen or company is accepted all around the world.
Vulnerability assessment is a preemptive food safety method that detects biological, chemical, and physical hazards throughout the production process. As a result, ISO 22000 Certification assists in employee training as well as consumer safety.
Moreover, If you want any other guidance relating to the ISO Certification. Please feel free to talk to our business advisors at 8881-069-069.
Download E-Startup Mobile App and Never miss the latest updates narrating to your business.