The Internet has had a profound impact on the way businesses conduct their operations. The global market is more open, interconnected, encompassing, and diversified as a result of it. Business growth, communication, and cooperation all benefit from the Internet. There are several benefits to starting an Internet Service Provider Business. In this article, you will understand the process and benefits to start Internet Service Provider Business.
What are the benefits to start Internet Service Provider Business?
A few years ago, in India, being an ISP required paying a hefty sum for a license, bandwidth, and other necessary facilities. The only way to get into the Internet service provider industry was to partner with a major company and run their ISP franchise. However, this has changed now. You can start Internet Service Provider Business now easily with limited investment.
After applying for an ISP license and being registered as an 'Internet Service Provider' with the DoT, you may do business on your own terms. This means you can acquire inexpensive high-volume bandwidth from different providers, build your own branding materials and pricing schemes, use whatever equipment you choose, and penetrate to other cities/villages in your region.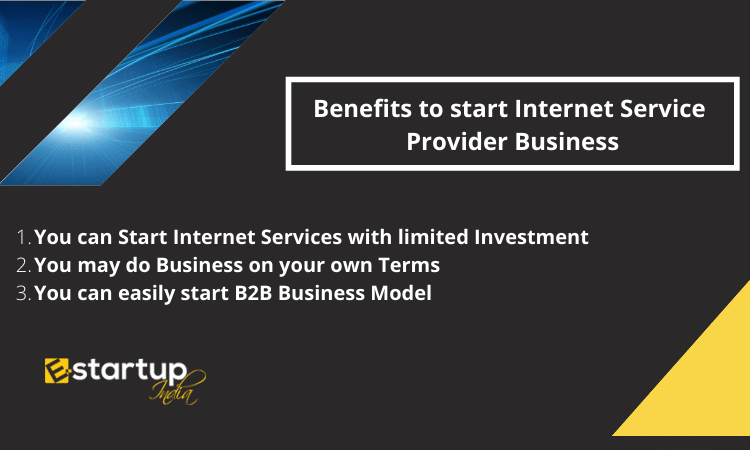 High-speed Internet is now being used by enterprises and organizations to speed up their corporate operations and growth plan. They heavily depend on this technology in order to increase output and streamline operations. Hence, you can easily start B2B Business Model.
How to start Internet Service Provider Business in India?
Make a Business Plan
Your objectives, tactics, probable difficulties, solutions to those problems, organizational structure, and the amount of capital required are all included in a business plan. Business Plan and Project Report can help you, your investors, and Financial Institutions to understand your goals, strengths, and USP in the market.
Unique Business Name & Legal Registration
The next step is to find a unique business name and apply for Company Formation. You can use Business Name Suggestion Service from experts as it will allow you to be eye-catching and unique in the market.
In India, every business needs to register legally with the MCA. The process of registration is known as Company Registration.
You can apply for the following business entity types and have your business registered in India.
Apply for Beneficial & Mandatory Registrations
1. ISP License
Having an Internet Service Provider License (ISP License) gives you the authority to run an internet service provider business in India.
The Department of Telecommunications issues all ISP Licenses, regardless of the kind of license. It is mandatory since a company can only function if it complies with ISP License regulations.
Therefore, if you want to join the large Internet Service Provider List, you should proceed and begin the process of obtaining an ISP License in India.
2. GST Registration
Internet connection services in wired and wireless mode are classified under the Goods and Service Tax (GST) code 998422 SAC (Services Accounting Code). Telecommunications, broadcasting, and information supply services include this service.
Hence, you must also get GST Registration to start Internet Service Provider Business.
GST Registration helps in:
Opening Current Bank Account
Get Business Loan
Get Multinational Clients
Ease of Operation in Online Business
Reduced Compliances as you only need to do GST Return Filing
Complete Process is Online
3. Trade License
If you're looking to start a company in a certain region or place, you'll need a trade license, which is a legal document that allows you to do business in that area or location.
It makes certain that the company or trade was conducted in accordance with all of the safety criteria set out as per the State Municipal Corporation. It safeguards the health of the people who live there where you conduct business.
4. PF Registration and ESI Registration
Aside from any other plans or legislation, the most sought-after ones are the PF Registration and ESI Registration.  Employees' salaries are deducted according to a predetermined percentage under both plans, and the employer adds a comparable amount to it before depositing the whole money into the account of the employee concerned.
5. PAN Registration
In order for a company to do business in India, it must get a PAN Card. A PAN is essential for every kind of company that generates a profit. In addition, For all financial transactions of the company, including invoices and other registrations, the PAN should be mentioned.
Hence, PAN Registration is also compulsory to start Internet Service Provider Business in India.
Marketing and Brand Building
An entrepreneur's most frequent blunder is failing to adequately describe how to get their product or service in front of potential clients or consumers.
No one can be convinced of the value of your company until you give them a means of effectively connecting with customers that is supported by solid research.
At this point, they need to feel confident in your ability to sell your services to others.
So, one of the most effective ways to market your business is through website development. Furthermore, it's essential for you to build a unique brand image for your business.
You can do so by providing good service and Trademark Registration.
Moreover, If you want any other guidance relating to starting an Internet Service Provider Business or Company Formation. Please feel free to talk to our business advisors at 8881-069-069.
Download E-Startup Mobile App and Never miss the latest updates narrating to your business.