Delhi government has now decided to start the e-token system for buying liquor, in order to reduce the massive crowds outside Delhi liquor shops.
As we know, the liquor shops were reopened on 4th May after the Lockdown due to COVID-19 was extended till the 17th of May. A huge crowd was witnessed at the liquor shops, and the people were seen violating the social distancing rules. The Delhi government subsequently imposed a 70% Special Corona Cess on liquor.
In order to deal with the problem of the crowd, the Delhi government has now launched the Q-token portal for the liquor buyers.
Purpose of Q-token in Delhi Liquor Shops
The e-token system has been launched by the Delhi Govt to stop the overcrowding outside the liquor shops so that the social distancing norms can be maintained to stop the spread of Coronavirus. These e-tokens can be obtained at the Q-token portal.
How will Q-token in Delhi Liquor Shops work?
The liquor buyers need to obtain the e-tokens from the Q-token portal. These e-tokens will bear the time slot during which the customer can go to his nearby liquor shop and buy his alcoholic beverage.
How to obtain the e-tokens from the Q-token portal?
The process to obtain the e-tokens from the Q-token portal is very simple.
#1. Visit the Q-token portal.
#2. Select 'Apply for Liquor Purchase Token' option:-
#3. Choose the Valid Govt. ID & enter the ID no.: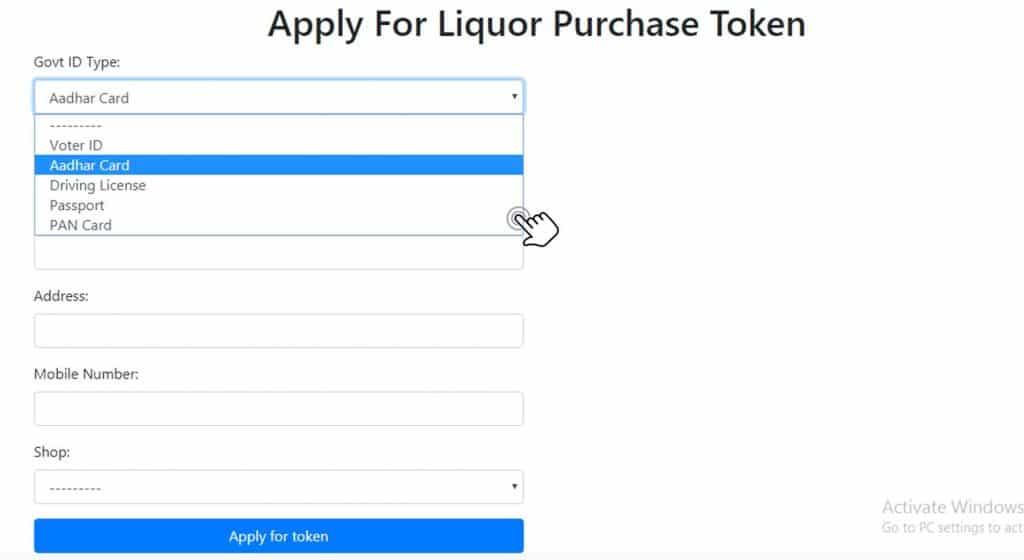 #4. Enter your name and phone number:
#5. Your e-token will be sent to the registered mobile number (RMN)
How to use Q-token in Delhi Liquor Shops?
You have to carry your e-token to the nearby liquor shop. Now, buy the liquor without any overcrowding at the store.
Notes:
Only 50 persons per hour are allowed to issue the e-token.
Very important: Only 160 stand-alone alcohol shops are open in Delhi. The liquor buyers can buy alcohol at these shops only.
Download E-Startup Mobile App and Never miss the latest updates relating to your business.