The legal categorization of limited liability corporations (LLCs) and limited liability partnerships (LLPs) are two of the most frequent for small enterprises. While the terms are related, there are significant distinctions between these two forms, and it's critical to select the proper one when forming a business from a legislative, taxation, and managerial standpoint. In this article, you will know about the difference between LLC and LLP Company.
Furthermore, LLC and LLP are the two most common and adaptable corporate structures. Most people mistake these two for one and the similar entity since they blend the characteristics of a partnership firm and a corporation. Thus, before establishing your business, you should understand all about the difference between LLC and LLP Company and their obligations and benefits.
What is LLP Registration? 
LLP Company Registration is a company formation that provides you with a legal structure of business in which two or more partners work together and their personal liability is distinguishable from the company's liability.
Furthermore, In an LLP, one member is not subject to liability for another partner's misconduct or negligence.  As a result, a limited liability partnership is a legally distinct entity from its partners or owners and has its own identity.
What is LLC Registration?
This is by far the most commonly used organization structure used within the United States, the United Arab Emirates, Poland, Japan, Brazil, and other countries, using different names. LLCs are a great source of flexibility. 
What is the difference between LLC and LLP Company?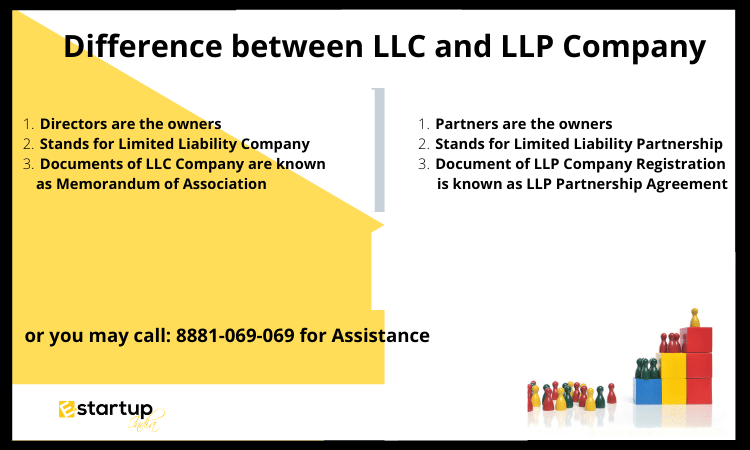 | | |
| --- | --- |
| LLC Company Registration | LLP Company Registration |
| An LLC is a tightly held business entity that incorporates the qualities of a corporation and a partnership. | An LLP is a type of partnership in which participants' liability is fixed to the amount of money they invest. |
| Here, directors are the owners of the firm. | Here, partners are the owners of the firm. |
| The members' obligation is determined by the number of unpaid investment returns on the shares they own. | The partners' liability is restricted to the amount they contribute. |
| The documents of LLC Company are known as Memorandum of Association and Article of Association. | The document of LLP Company Registration is known as LLP Partnership Agreement. |
| Entrepreneurs generally form LLC companies. | Licensed professionals such as chartered accountants, lawyers, and engineers frequently form LLPs. |
| LLC stands for Limited Liability Company. | LLP stands for Limited Liability Partnership. |
| The choice of a company name is the first stage in the process of company formation. Then the next step is to submit an application for a Director Identification Number and Digital Signature Certificates. | To create an LLP, you must first register for a Designated Partner Identification Number (DIN) for each of the two different partners and get a Digital Signature Certificate Registration for at least a one partner |
| LLC Company continues to exist even if the directors change. | If partners leave or die, the company may also die. |
| Audit Requirement is mandatory. | The audit is mandatory only if annual turnover exceeds Rs. Forty Lakhs or the Capital exceeds Rs. Twenty Five Lakhs. |
| The tax on profit is twenty-five per cent. | The tax on profit is thirty-per cent. |
Why Choose E-StartupIndia for Company Registration?
We have a top-notch team of business experts capable of providing a hassle-free and error-free Online Company Registration Service in India. Since 2014, our experts have been doing daily online company registrations and keeping up to standard with MCA's online registration procedures. As a result, we are able to supply you with the finest MCA functionality.
Furthermore, We'll assist you with opening a current account with ICICI Bank and relieve you of the hassle of dealing with bank staff who require the same paperwork over and over again.
Moreover, If you want any other guidance relating to LLP Registration. please feel free to talk to our business advisors at 8881-069-069.
Download E-Startup Mobile App and Never miss the latest updates narrating to your business.