ESI is the short form for Employee State Insurance, which is managed and controlled by the Employee State Insurance Corporation (ESIC). This Scheme was established for offering various benefits to all the workers. The various benefits include medical, monitory, and other benefits. In this article, you will get to know about the important information relating to ESI Registration for proprietorship firm registration.
What is proprietorship?
A Proprietorship is an unregistered business institution owned, controlled, and managed by a single person. It is one of India's most common types of business, and most micro and small businesses operate in this unorganized sector. This business entity is perfect for new entrepreneurs who are getting in the line of business for the first time and all the small businesses with a handful number of clients. However, having sole-proprietorship registration offers multiple benefits and it becomes essential when your business starts growing.
What are the important documents required for ESIC registration
As the entire registration process is online, no physical documents need to be submitted. A scanned copy of the document has to be uploaded while filling out the online registration form. The necessary documents are:
Registration certificate obtained under the Factories Act or Shops And Establishment Act
Certificate of incorporation of the establishment that includes:
GST Registration certificate of the business
Partnership deed if it is a partnership firm
Certificate of company registration if it is a company
Memorandum of Association along with Articles of Association of the company
Address proof of the establishment of the company. You can submit any of the following documents as address proof:
Utility bills that include electricity bills, gas connection bills, and telephone bills not older than three months
Property tax receipts of the land on which the establishment has been built
Rental agreement of the land
Complete list of all the employees working in the company
Compensation details of each worker
PAN card of the business establishment or company along with the PAN card of each employee
Canceled cheque of the company bank account
A register which will contain all the attendance of the employees
The list of directors and shareholders of the company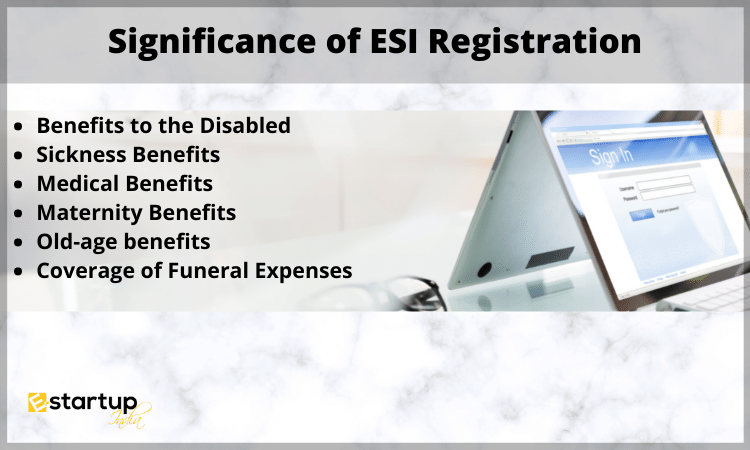 However, if you want any other guidance related to ESIC Registration, please feel free to talk to our business advisors at 8881-069-069.
Download E-Startup Mobile App and Never miss the freshest updates narrating to your business.