Products for sale can be advertised and purchasers can explore and buy them online through the Meesho Seller Panel. With the Meesho Seller Panel, vendors may also monitor their sales and obtain feedback from customers. However, to sell products on Meesho, you need to have GST Registration. In other words, GSTIN for Meesho Suppliers is mandatory to sell their products on the platform. In this article, you will learn how to get GSTIN for Meesho Supplies.
What is Meesho?
In today's world, anyone may start their own online business from the comfort of their own home, without having to spend a fortune.
Around the past decade, online shopping has grown considerably, and E-Commerce firms now produce huge amounts of money in overall sales all over the world. Meesho is also an e-commerce platform that allows you to sell a wide variety of products.
If you're thinking about beginning a resale business, Meesho is a good option. Meesho is an online resale platform that allows anybody to start a business without having to invest a significant amount of money into it.
How to sell your products on Meesho?
To sell your products on Meesho, you need to follow the steps below:
Download the Meesho Mobile app or visit their official website
Register as Seller or Create a Seller Account on Meesho
Submit your documents and details to register. These include:

Business Contact Number
Business Details
GSTIN Number or GST certificate  
Bank Account Details

Choose a product category
List your product and add product descriptions along with prices
Share your products
Deliver and Get Paid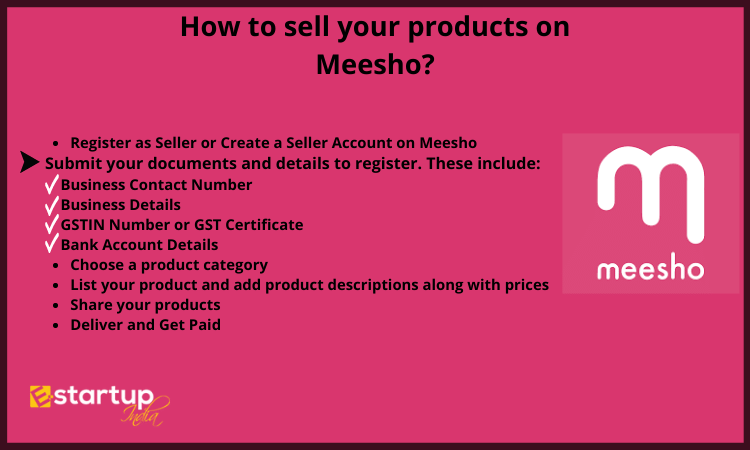 What is GST Registration and GSTIN?
GST registration is the procedure through which a taxpayer is enrolled in the Goods and Services Tax (GST). The Goods and Service Tax Identification Number (GSTIN) is issued once the registration procedure is complete. In order to identify whether a firm must pay GST, the government provides a 15-digit GSTIN number. Every e-commerce seller needs GST Registration or GSTIN to operate their business legally. In fact, multiple e-commerce operators do not allow you to have a seller account on their portal if you don't have GST Registration.
Stepwise Procedure to get GSTIN for Meesho Supplier
The procedure to get GSTIN for Meesho Supplier is simple through our web portal. All you need to do is:
Share basic details of your business on our web portal or mobile app E-Startup – Business Registration & Consult CA App or Contact us on – 8881-069-069
Experts will be assigned to you and you will get a detailed understanding of document requirements and preparation.
Submission of documents and payment through any of the mode as per your convenience
Our GST Registration Expert will file your application and you can track the progress
Receive your GST Registration Certificate & GSTIN along with guidance for next steps to start your business on Meesho.
Moreover, If you want any other guidance relating to GST Registration for Online Sellers at Meesho please feel free to talk to our business advisors at 8881-069-069.
Download E-Startup Mobile App and Never miss the latest updates narrating to your business.