The furniture industry, often known as woodwork or the woodworking industry, is engaged in the production of goods mostly out of wood. Carpentry, wood-turning, and carving are all part of it. Gujarat, Kashmir, Punjab, Uttar Pradesh, and Kerala have long been major contributors to the Indian furniture industry. Profitability is high, making it a great manufacturing company concept. In this article, you will learn how to start a woodworking business in India.
An Overview of Woodworking Market Trends in India
India's manufacturing industry relies heavily on a wide variety of hardwoods such as oak and other tropical hardwoods such as ebony and rosewood, as well as teak, tigerwood, and a variety of other hardwoods.
Woodworking is flourishing in India because of the country's abundance of green forests, which include tropical forests, coniferous forests, deciduous forests, and forest lands.
Woodworking is flourishing in India because of the country's abundance of green forests, which include tropical forests, coniferous forests, deciduous forests, and forest lands.
Characteristics of the Indian Woodworking Industry
One of the fastest-growing areas in India's economy is the woodworking industry. More than 200,000 craftsmen labor in India's 1,00,000 officially recognized woodworking businesses.
It's been a few years since more than 3000 furniture business establishments have been established in the Indian organized sector. Moreover, the numbers are rising on a yearly basis.
World Bank research shows that the organized furniture business in India would continue to develop at a 20 percent annual rate through 2020. This year, the online home décor industry is expected to increase at a CAGR of 50.42 percent in revenue, compared to the Luxury Furniture Market's CAGR of 4.1%. The furniture market in India is ranked 14th in the world.
Advantages to start woodworking business in India
The woodworking industry is simple to start and doesn't take a lot of money to get started.
In addition, a few licenses and registrations are necessarily based on the number of personnel employed at the production unit and the size of the firm.
Steps to start a Woodworking Business in India
Registering your business with the Registrar of Businesses
This certificate of incorporation marks the beginning of the company's existence as a legal entity. You also need to have Company Registration in order to start a woodworking business in India.
The major types of Company Formation to start Woodworking Business in India are as follows:
Create a business strategy
A business plan helps you see your competitors and the viability of your ideas more clearly. Even if you're running a business from your house, knowing what your goals are can keep you focused. In reality, a business strategy is a calculated shortcut to assist you to anticipate the positives and negatives that may befall you.
You should include a full explanation of your goals, expected sales, and financial predictions in your business plan, which will make the follow-up process easier. In addition, you should test the market with the items you want to offer in order to determine whether or not it will be a viable business.
Product promotion
Your consumer base should progressively grow once you've sold a few items from your house. It's important to manufacture enough woodwork items that may be sold at flea markets, art and craft fairs, or even retail stores that offer home décor in order to do this.
During the early phases of your firm, you may have to offer your items on a variety of online channels.  Your business and yourself will benefit from identifying the most from this insight.
You can also have a website development and then promote your business.
Have mandatory licenses and registrations 
Trade License to do business issued by the local corporation. It is an official license from the local government that allows you to conduct business in that area.
When a company's yearly revenue exceeds the required threshold limit of Rs. 20 lakhs or Rs. 10,000,000, depending on where it is located, or when it sells products beyond state lines, it must register for GST.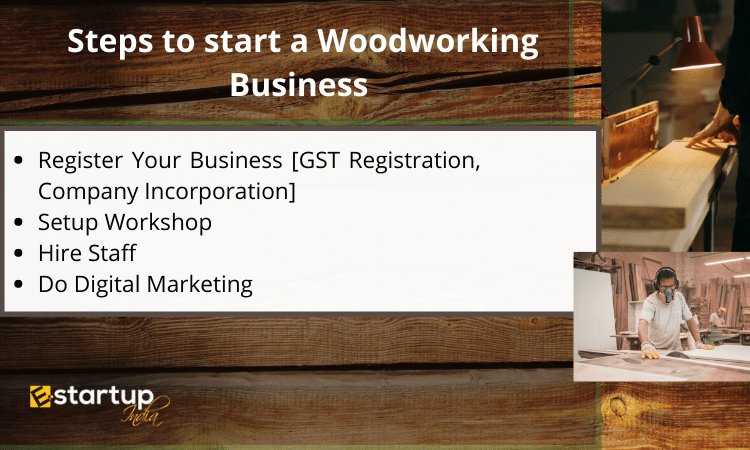 Hence, GST Registration and GST Return Filing becomes essential.
Moreover, If you want any other guidance relating to Company Formation. Please feel free to talk to our business advisors at 8881-069-069.
Download E-Startup Mobile App and Never miss the latest updates narrating to your business.