When it comes to running a business, more and more people are turning to dropshipping as an option. In order to get started selling things online without breaking the bank or investing a lot of time, you're likely to hear that dropshipping is the way to go from an experienced e-commerce merchant.  So, Drop shipping is the way to go if you want to establish an online business as well. In this article, you will understand the process to start amazon dropshipping business in India.
What is Dropshipping Business?
A dropshipping business is one that sells a product without having to worry about stocking the item or transporting it to the customer themselves.
Manufacturing, stocking, and shipping are all responsibilities that fall within the purview of a manufacturer.
A dropshipper's job is to manage an online business where they take orders, place those orders with suppliers, and deal with customer support issues.
When it comes to the dropshipping business model, the supplier is a critical component. Orders from customers are fulfilled by suppliers that drop-ship products directly to customers.
How Does Amazon Dropship Work?
Amazon's Fulfilled by Amazon service enables dropshipping.
This service allows you to send your items to Amazon, which will store them and then deliver them to your consumers directly.
As a result of this program, your clients will receive their purchases even faster thanks to the best delivery speeds on the market. The twenty-first century has taught us that clients like quick shipping.
Advantages to start Amazon Dropshipping Business in India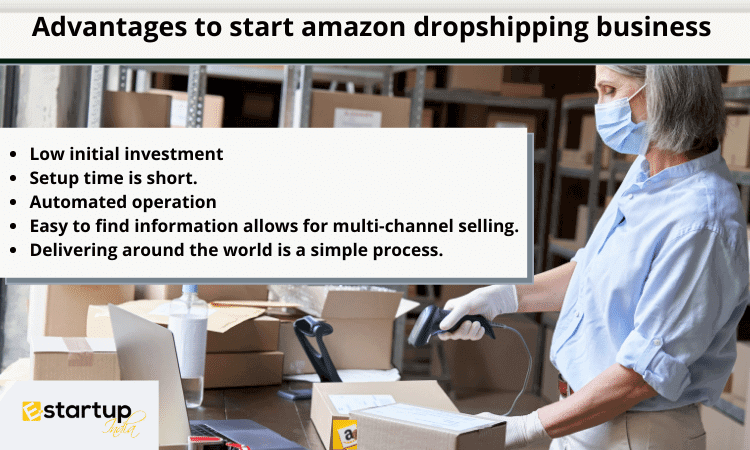 This business model frees sellers from the burden of product storage. With dropshipping, you can start a business with simply an internet connection, rather than having to invest in an actual store, warehouse, and other overhead. 

Dropshipping offers the ability to reduce overhead expenses because you don't have to store or transport the goods yourself.

To draw in more customers, dropshipping businesses can make use of multidimensional selling. The Amazon Global Selling program and social media are all viable options for dropshipping items from your own website.

As a dropshipper, you may send packages to any location in the globe, regardless of where you're based. It is not a problem for the business owner to operate the store from any location.

Dropshipping, unlike private labeling and wholesale, does not necessitate that you own any inventory. After receiving payment from the customer, you start turning around and purchasing the merchandise from the vendor and have them send it directly to your customer.

Automating Amazon dropshipping is easy because of the numerous tools and plugins available online. With the help of this method, dropshipping businesses may be run nearly entirely on autopilot.
Process to start amazon dropshipping business in India
Create an Amazon Seller Account
Having an Amazon seller account is a must for selling products on the site.  Amazon's sellercentral.amazon.com is where you can acquire one. Amazon will then give you the option of starting with an individual or a professional account.
Get Mandatory Registrations 
To operate business in a legal manner, you will need to be compliant with laws. In India, you will need to have
Create a connection with Supplier
The next step is finding a supplier for your product ideas.
When it comes to dropshipping, Aliexpress is your best bet. In order to facilitate dropshipping, this B2B platform connects e-commerce firm owners with suppliers.
A range of goods will appear when you enter the search parameters for the product you're interested in selling.
After clicking on one, you'll see a variety of information.
Make a product listing on Amazon.com.
Once you have a concept for a product and a supplier to make it, you'll need to establish an Amazon product listing.
In order to add an item to your stock, navigate to Inventory > Add a product in your Seller Central account. Click "Inventory > Add a product" on the Add a Product page that appears to begin the product creation process. Click "Create a new product listing" on the Add a Product screen that appears.
Begin marketing your Amazon store now
If no one knows about your shop, you won't be able to sell anything, right? Thus,  Traffic must now be directed to it.
Don't forget to advertise your business on all of your social media accounts. If you'd want to increase traffic and sales, you may also use Amazon advertisements.
Final Words
In conclusion, Amazon Dropshipping business in India is highly profitable if done correctly. If you want to start your own Amazon Dropshipping business in India, feel free to contact our business advisors. Our business experts for amazon dropshipping business will be more than happy to assist you in your venture.
Feel free to consult our business advisors at – 8881-069-069 or visit our site E-Startup India – We shape your ideas into business.
Download E-Startup Mobile App and never miss the latest updates relating to your business.