BPO (Business Process Outsourcing) is a popular option for Indian entrepreneurs who wish to build a profitable business. But many entrepreneurs are unsure of how to start BPO Business in India.  Moreover, It is the perfect time to start BPO Business in India because our nation is currently the most preferred industry for BPO companies worldwide. Thanks to the low cost of employees and India's large pool of highly skilled people. Thus, you will learn how to start BPO Business in India through this article.
What is BPO Business?
Non-core functions such as human resources, data processing, supply chain management, and transportation are increasingly being outsourced rather than performed in-house by companies across all industries. A direct outcome of this was a significant increase in the size of the BPO business.
Thus, BPO (Business process outsourcing) is an activity in which a corporation outsources its non-core activities to an outside organization.
In simple words, BPO is a commercial approach wherein one firm engages another firm to do a job or an activity that the employing organization expects for its own business to function.
Types of BPO Business in India
At present, almost every service is available online through BPO Business. The most common BPO Business in India are:
Accounting and Bookkeeping Services
Market Research and Digital Marketing
Customer support services
IT Services
Project Development
HR Management
Payment Processing
Procedure to start BPO Business in India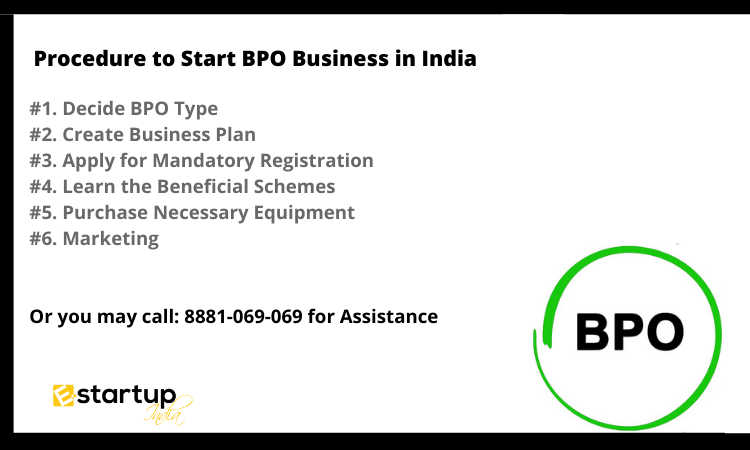 Decide the BPO Business Type 
To succeed in the BPO industry, you'll need a solid grasp of business principles as well as specialized knowledge in your industry. Thus, the first step is to decide what sort of BPO business you want to start and write a business strategy. You can't decide what to do unless you know what services you're going to supply, therefore understanding this information is critical. You can choose one of the following options:
Focus on a single service that you can supply across a variety of sectors (known as horizontal BPO).
Focus on a single industry, such as health care system, production, retailing, or utility, and power, and customize your offerings to meet their needs (known as vertical BPO).
Create a Business Plan
One of the best strategies for developing an efficient business plan is to study the complexities of your selected industry and the operations of your peers. You also need to formulate a plan for the following things.
Company Registration from one of the following:

Taxation systems and practices such as GST Registration, GST Return Filing, TDS Return Filing
Funding whether self or through a Business loan or Venture Capital Funding
Terms and Conditions of Business
Permanent Office Location or Communication Platforms if Remote Business
Benefits for Employees
Consultancy from an expert
Decide the business goals
Innovation and Uniqueness from other businesses etc.
Apply for Mandatory Registration
After formulating the business plan, the next step is to get the necessary registrations done. For every business in India, there are some mandatory registrations that they should have. Thus, if you plan to start BPO Business in India, you need to mandatorily apply for:
Furthermore, you need to set up some essential activities such as Bookkeeping and Accounting service from the day one you start BPO Business in India.
Learn the Beneficial Schemes to start BPO Business in India
The Government of India provides several beneficial schemes for new and existing businesses. You must also avail of some beneficial schemes to start BPO Business in India in an easy and convenient way. Some beneficial schemes for BPO Businesses in India are:
Purchase Necessary Equipment to start BPO Business
Whatever BPO services you provide, you'll have to invest in certain necessary systems and technologies.
Additionally, managing BPO centers requires investment in high-quality computers, dependable telecommunication facilities, and a high-speed connection to the internet.
Hence, you should find out the necessary equipment requirement and effective deals for the same to start BPO Business in India.
Marketing 
The last step to start BPO Business in India is Marketing and Spreading the Word. These days you can utilize local search engine optimization to initially get local clients.
Established business process outsourcing firms have a reputation and a large network that produces recommendations.
As a result, for beginning, it is preferable to allow client organizations to evaluate and work with you for a little period of time. This will result in larger projects.
Moreover, If you want any other guidance relating to Company Formation. Please feel free to talk to our business advisors at 8881-069-069.
Download E-Startup Mobile App and Never miss the latest updates narrating to your business.