Indian driving schools and institutions are experiencing a surge in demand, allowing investors and entrepreneurs to discover new business prospects. Because of the quick expansion and evolution of industries, as well as the rising desire for individuals to drive automobiles and other vehicles, this may be the case. In this article, you will learn how to start driving school in India.
Should you start driving school in India?
Establishing a driving school business may be a smart move because most individuals desire to be able to drive on their own.
Additionally, a number of national and multinational corporations are looking to expand their driving training operations in India, which is a relatively unexplored market.
People's rising income money is a big reason why driving schools are expected to expand in popularity over the next few decades. These driving schools, which can turn even the most novice of riders into a professional, may pique the interest of consumers ready to spend more money.
Time Constraint is another important component that might help to shape a promising future for this sector. Parents' and spouses' schedules are becoming increasingly hectic, making it difficult for them to teach driving.
Thus, Driving School can become a good business.
The procedure to start driving school in India is as follows: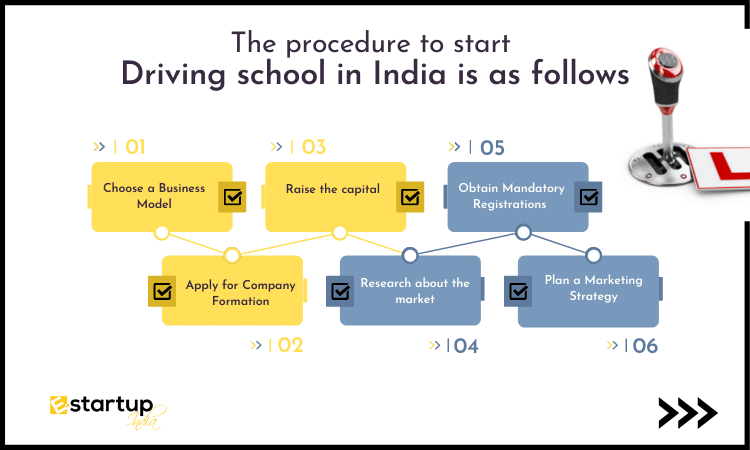 Choose a Business Model 
The first step is to choose a business model for your business school. You can choose any of the following business models or even combine them.
Commercial Driver's Education Centers
Heavy truck, crane, bus, and other vehicle drivers are trained at this sort of driving school.
Getting a driver's license requires passing a road test online, and you'll prepare them for that.
Private Driving Lessons on-Demand
Private driving classes are an alternative for consumers who want more personalized instruction. These clients are willing to pay more for private lessons if the concept is appealing to them.
Classes for People with Disabilities
The fact that your establishment is accessible to everyone means you can provide a warm welcome to those with impairments. This type of company caters to those who are hampered by physical limitations.
Have a Company Formation and Unique Business Name
Every enterprise needs to register with MCA through Company Registration. An Indian firm must be registered with the MCA (Ministry of Corporate Affairs) prior to its commencement. Businesses established without Company Registration are deemed unlawful. Once you've completed the necessary requirements, you'll receive an incorporation certificate and start driving school in India.
Raise the capital to start driving school
When beginning a new business, finding a source of financing is critical. Starting a business isn't difficult if you have a steady supply of money. Once you've completed the registration procedure, you'll need to come up with a budget for your new company. Start-up funding is available from a variety of sources, including business loan, personal loans, and savings.
Research about the market
Make sure there is no or negligible degree of competition in the region where you plan to establish your firm.
Since everyone must learn to drive at some point, driving education is already available in many places. Understanding your competitors will show you the way to success in the world of business.
Obtain Mandatory Registrations 
Starting a business needs registration, licenses, and suitable documents. Trainers may require licensing, photo ID, national identity, medical certificates, and a CV related to their credentials. If you're running a driving school, you'll need the following registrations and licenses:
Insurance Policy
Driving Instructor License from RTO
Plan a Marketing Strategy to start driving school 
Marketing is an essential component of running a driving school since it attracts new students and clients. You need to know who you're trying to reach in order to construct an ad that will stand out from the competition and entice customers away from your competitors. You can utilize website development, digital marketing, pamphlets advertising, large signs on the main highways, posters, etc to market your driving school.
Moreover, If you want any other guidance relating to Company Formation. Please feel free to talk to our business advisors at 8881-069-069.
Download E-Startup Mobile App and Never miss the latest updates narrating to your business.