Opening a food business in India is a great choice and a profitable one. A frozen food business in India will be the perfect option, especially if you live in a city. In the last few years, we have seen a rapid rise in the demand for frozen food. It is believed that by 2024, the frozen food market in India will cross 193 billion INR.
So you can expect a massive rise in frozen food demand and supply in the coming years. Thus before starting your Frozen Food Business in India, you need to take care of company registration, company formation, and trademark registration.
Why is the frozen food business in India?
Your frozen food business will boom if you start in metro cities like Mumbai, Delhi, Hyderabad, Bangalore, Kolkata, and Chennai. The demand for frozen food is more in urban areas because of the busy city life and time constraints. Urban dwellers do not get enough time to cook or go to the market to buy fresh supplies. So, mostly they need instant food options, out of which frozen food is the best choice.
Frozen food items can be quickly cooked and are pretty tasty, and some of them are pretty healthy. Apart from this, the consumers do not have to worry about other raw materials required for cooking.
A considerable percentage of the country's population prefer frozen food items as they can be cooked as per your needs. Therefore starting a frozen food business in India at an early stage is a good choice.
Procedure to start a frozen food business in India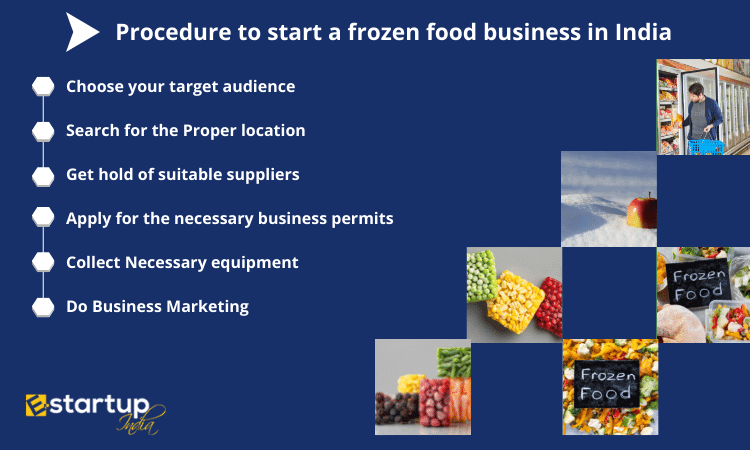 Choose your target audience
This is an essential step for any business. While conducting your market research, you have to learn about your target group, locality, your customer's demands, and the market you will be catering to.
For example, your target audience would-be college students, working women, bachelor's, grocery stores, food chains, and canteens. This information will help you plan the perfect marketing strategy to serve your customers better.
If you want to have detailed market research or assistance, you should consult a Chartered Accountant.
Search for the Proper location
The next step is to choose a good location for your business. For example, it will be beneficial if you start your business in a place with high traffic and heavy footfalls. In simple words, you have to select a busy location from where your target audience can easily buy frozen food.
Get hold of suitable suppliers
Finding trustworthy suppliers who can supply good quality items is the key to success. The suppliers need to offer fresh and high-quality food items with no compromise on the expiry date.
Besides, you have to keep your stocks full as your customers would need frozen food products daily. A shortage in the supply will be the main reason your customers will turn to your competitor's store.
Additionally, you need to look for a supplier who can offer you products at discounted rates. This will enhance your chance at profitability and with the extra money saved you can also offer discounts to your customers. You can utilize Business Loan to get the products and start your business.
Apply for the necessary business permits
Before starting your frozen food business in India, it is necessary that you get the required food permits; otherwise, your business is vulnerable and illegal in the eyes of the law. Some of the critical documentation processes you need to complete are
The government authorities can shut down your business if you do not have the necessary permits.
Though, ISO Certification in India is not mandatory. However, having ISO Certification provides several benefits. To know more about ISO Certifications for the food business, you can read:
Collect Necessary equipment
Before setting up your business, you need to install various equipment and appliances like freezers, weighing scales, delivery vans, generators, etc. The primary appliance is a freezer, without which you cannot store your frozen food products.
Do Business Marketing
The last and final step to success is marketing and promotion. You have to develop marketing strategies both online and offline. You need to perform a SWOT analysis to evaluate your strength, weakness, opportunities, and business risks. This will help you learn about your position in the frozen food market in India. Furthermore, you should incorporate modern marketing techniques such as website development and SEO to attract the relevant audience.
Conclusion
If you are willing to be part of the frozen food business in India and earn a better profit, you can follow the steps mentioned above. However, you must complete all the legal documentation processes before starting your business to avoid fines and other legal issues.
Moreover, If you want any other guidance relating to Company Formation. Please feel free to talk to our business advisors at 8881-069-069.
Download E-Startup Mobile App and Never miss the latest updates narrating to your business.