Online optical business is gradually becoming popular among people. This is because people get to choose from a wide range of options at discounted rates from the comfort of their homes. Many apps also offer 3D features where you can try different eyewear virtually and then select which one looks good on you. So, if you want to open an online optical business, you have to know a few things. So, in this article, you will learn how to start online eyeglasses business.
Process to start Online Eyeglasses Business
1.     Plan and Strategize
The first and the most important step before starting a business is planning. You need to know the structure, how you will plan it and the location. You also need correct information on the size, warehouse and the number of dealers in your locality. Other things to keep in mind are the overall budget, number of staff, trademark registration online and the products.
Make sure to have the right company formation for your business model. In the market you will find hundreds of websites offering thousands of different frames. So you have to pick the most popular frames and add some unique ones to the list. You also need to invest in medical equipment like a refraction unit, keratometer and other devices.
Therefore, to get the business loan you will also need to make a business plan and project report.
2.     Get A Trade License to Start Online Eye Glasses Business
Before launching your business, get a proper trade license. You can call our business advisorswho can assist you with GST registration, & GST return filing, and other necessary things for commencement of your business legally.
3.     Know About The Market And Your Competitors
Most pre-established businesses have already done their research work on the customer base. You can visit their websites to get an idea. You need to study the market and carefully research what your competitors are offering.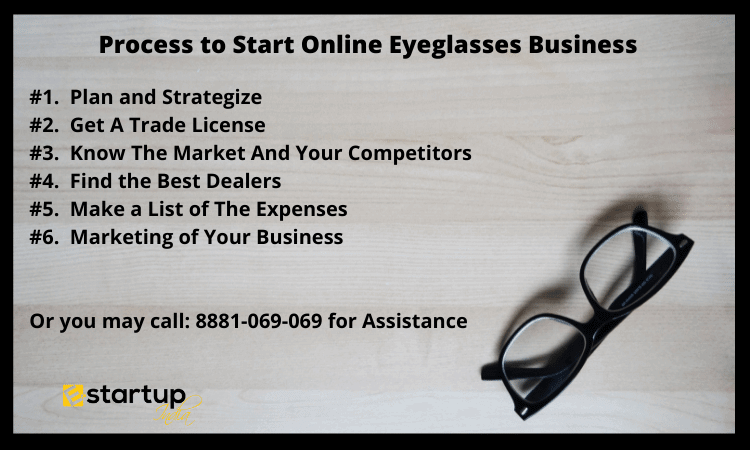 Find out the loopholes in the market and the segments where none of your competitors has focused on. Remember that the products you offer should be trendy and unique which is required to Start Online Eyeglasses Business.
4.     Find the Best Dealers
You need to contact dealers who already supply at your location at the lowest prices. Upon receiving their quotation, you have to shortlist four to five suppliers. Now you can place orders from one of them at reasonable prices. In the online eyeglasses business, You can deliver the product in two ways. You can either buy and store it yourself or use the drop shipping feature where the product will be directly delivered to the customer from the dealer.
However, you will need to have excellent Website Development in both the online business models.
5.     Make a List of The Expenses
After getting an estimate from the dealers, you need to prepare a budget. The budget will include the prices of each piece of medical equipment, the products, marketing and website development and it's maintenance. Since it is an online business, you have to know where the money is going. You can consult our team of chartered accountants, business professionals and utilize Bookkeeping and Accounting Services to do so effectively.
6.     Marketing of Your Business
An online optical business would require a lot of marketing, especially in social media. Social media platforms are one of the easiest ways to gain the attention of the audience.
You can also use local newspapers, advertisement leaflets and even email marketing. You can market product launches and discounts via texts through people who have already registered. To attract more customers, you can offer free products and services.  This will also help you gain more customers.
Product photography: Get a professional product photographer and take two to three shots of each product in proper light conditions. You need to take close-ups so that the customers can view them properly.
Registrations: You also need to get trademark registration and ISO certification of the products so that your products are of high quality and others can not harm your reputation.
Prescriptions: If you plan on selling contact lenses, make sure that the customer uploads a prescription. Selling contact lenses without a prescription is illegal.
Efficient customer service: You can hire 2-3 people at the beginning who will be helping you with customer support. Remember that a happy customer will bring in more customers.
Conclusion
An online eyeglasses business is a great idea. If you plan to kickstart your business in effective way, feel free to contact us.
Moreover, If you want any other guidance relating to Company Registration. Please feel free to talk to our business advisors at 8881-069-069.
Download E-Startup Mobile App and Never miss the latest updates narrating to your business.