A wide variety of bottled water delivery services are available to keep you and your family hydrated throughout the day. It doesn't matter if you're using the water for your home or business; it's essential to excellent health and will benefit you and your family. It is not as difficult as many people believe, and those who put off starting a water plant or a water supply firm can do it successfully using well-thought-out methods. In this article, you will learn how to start water supply business in India.
Stepwise Procedure to start water supply business 
Market Research and Business Plan
As an entrepreneur, having a well-thought-out strategy is vital. Map out the details of your organization and find some unknowns using a business plan. The following are a few crucial points to bear in mind:
Are there any start-up or continuing costs?
Who are you trying to reach with your product or service?
What is the maximum price you may charge your clients?
What will the name of your company be?
Furthermore, you need to conduct market research. You need to find the demand and the competition in the area.
Company Formation
The most popular and beneficial company formation to start water supply business are: Private Limited Company Registration and LLP Registration. However, if you are solopreneur, you can also have your business registration in Sole Proprietorship Registration or One Person Company Registration.
Apply for necessary licenses and Registrations
It doesn't matter how big or tiny an industry is; each requires a unique set of permits and registrations from government agencies. The certification and permission requirements of a specific state may differ. However, some essential registrations are as follows:
GST Registration
Trademark Registration
FSSAI Registration
Certificate of Pollution Control and Pest Control Certificate
PAN Registration
Digital Signature Certificate Registration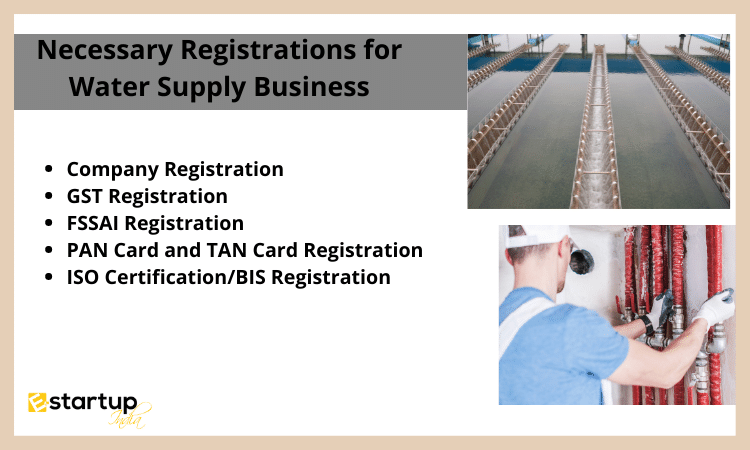 Furthermore, you will also need to mandatory bookkeeping and accounting and do ITR Filing for your business on time.
Choose a Good Location
Building an industry requires a certain amount of floor space. The mineral water factory requires an area of at least 1000 square feet. Mineral bottles that have been treated can be stored in a separate section from the rest of the facility. Choose a location where the target market can readily be met and where there is adequate water and electricity to meet the needs of the business.
Decide on the ideal equipment
Many different equipment are available to refine mineral water. Choose the machine that best suits your needs in terms of cost, investment, and packing, since there are two primary options: fully automatic machines, and semi-automatic machines.
Acquire Funding
You will need to have a significant amount of funds for a variety of reasons. One of the best ways for acquiring funds is through a small business loan.
If you have MSME Registration, you can also have collateral free loans if you meet the eligibility criteria.
Moreover, MSME Registration allows you to have funding from other financial institutions as well.
Set up an accounting system for your company
Accounting for your business's numerous costs and sources of revenue is essential if you want to fully grasp its financial health. It is much easier to file your annual taxes if you keep meticulous and precise records.
Branding and promotion
The quality of your product and marketing techniques is what determines your success.  Determine who you want to sell to and then put together an effective supply chain to reach them.
Final Words
In this article, you have now known the stepwise procedure to start water supply business in India. If you have any other queries relating to water supply business in India, or any of the registrations requirement, you can contact our team of experts.
How to get GST Registration if I am starting a new online business
Also, require any other guidance with respect to Company Formation, please feel free to contact our business advisors at 8881-069-069.
Download E-Startup Mobile App and never miss the latest updates relating to your business.