Are you planning to start a yarn business but have no idea how to start? If you talk to an entrepreneur, getting started is one of the toughest tasks. You need to take care of many things like licensing, products, marketing and various other things.  In this guide, you will learn how to successfully start yarn business in India.
Overview
A yarn store or a knitting store is a shop that sells materials related to knitting crafts. You will find yarn balls, knitting needles, patterns, crochet hooks and knitting accessories in the stores. Some stores also sell other crafting materials related to other hobbies.
Who will be my target audience?
The target audience for a yarn business is all the people who love to knit and crochet. The shop offers a community vibe, so more customers are attracted to your shop.
Expertise required to start yarn business in India?
Knitting knowledge: Whenever an interested customer visits your shop, they will ask you for advice on textures and techniques. So you need to know yarn, knitting and crocheting. You may also need to display knitting skills if necessary.
Knowledge of the trends: To Keep up with your competitors and serve your customers better, you need to follow the latest trends.
Customer service: You have to build a good relationship between customers and clear their doubts. In this way, you can retain your existing customers and gain referrals and repeat business.
Basic Business Knowledge: To run a business successfully, you need to know marketing, finance, accounting and human resources.
The process to start yarn business in India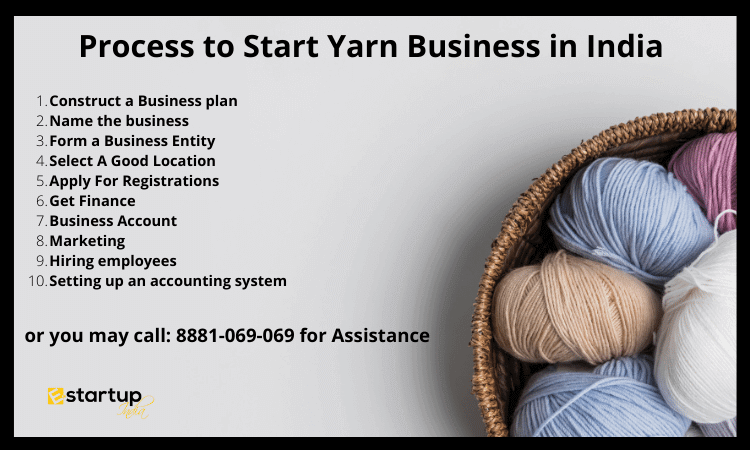 Construct a good business plan
The first step to a successful business is to construct a good business plan. You will need to learn the fundamentals of your business, company Registration, your customer base and develop marketing strategies. With a correct business plan and project report, you can manage your expenses well and also get information about your competitors.
Finding the perfect name for your shop can be challenging. The name has to be catchy and it should signify what you are selling.
You can choose from the primary business entities which are the Sole Proprietorship Registration, partnership firm Registration, LLP Registration, and private limited company Registration.
The location of your shop is vital. Your shop and the products need to be visible and must be in a crowded area.
You need to get certain business licenses and legal documents like GST Registration, GST Return filing and MSME Registration to commence the business. These permits and licenses may vary depending on the laws of the state.
In order to get a loan, you need to have a good credit score and be able to invest 15 to 20% of your money towards the startup cost. If you have all the legal documents, you can apply for a business loan.
To keep track of your expenses and profits, you need to open a current bank account.
To make your business visible to the audience, you need to promote it. You can promote it on social media websites like Facebook, Pinterest and Instagram. You can also send out leaflets and email invitations. For gaining more customers, you also need to have excellent website development.
You will need employees to run your business. So before hiring them, make sure that they have the required skill and knowledge to run a yarn business. You will also need to have PF Registration and ESI Registration for your employees.
Setting up an accounting system
For the long term success of your business, you have to set up an accounting system. This will help you stay on top of the taxes and keep your business away from financial and tax-related troubles. The best way to do so is to have online bookkeeping and accounting service
Conclusion
Starting a yarn business is a great idea especially if you are passionate about knitting. Feel free to contact us if you have any queries related to starting a yarn business in India.
Moreover, If you want any other guidance relating to Company Formation. Please feel free to talk to our business advisors at 8881-069-069.
Download E-Startup Mobile App and Never miss the latest updates narrating to your business.