As we all know, Trademark is a kind of intellectual property that is valuable for every kind of business. It is also valuable as any other physical asset. To transfer ownership of a trademark you have to apply online. Everything related to trademarks such as Trademark Registration online and Trademark Modification can be done online. In this article, you will understand the complete process to transfer ownership of a trademark.
Moreover, some trademarks also have more value than some physical assets too. Hence, after you register trademark in India, you also have a right to sell, transfer or give it on lease.
What does it mean to transfer ownership of  Trademark?
Trademarks are frequently exchanged from one proprietor to another. The transfers could be short-term as a result of a license or lifelong as a result of the assignment.
In simple terms, a trademark assignment or ownership transfer of trademark registration is the process of transferring trademark registration and ownership to another person.
Only when all the parties have signed a Trademark Assignment Agreement can they assign their trademarks to one other. The reason is there is significant Importance of Trademark Registration in India and around the globe.
Furthermore, a trademark license is the temporary transfer of a trademark.
You can also define trademark assignment or transfer of trademark as the supply of intellectual rights from within a businessman's asset. Similar to the Trademark Registration Online, you can transfer ownership of a Trademark through an online process.
Complete Process to Transfer Ownership of Trademark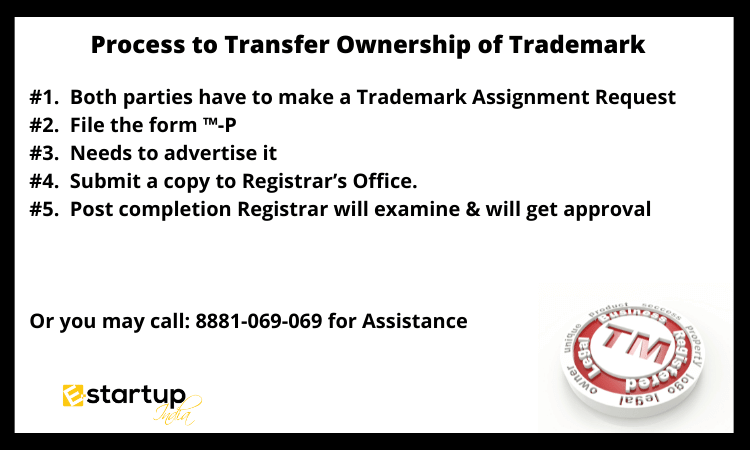 You as assignee or Assignor or both have to make a Trademark Assignment Request. You can do it through a Trademark Assignment Application.
 File the form ™-P and enter all the necessary details such as:

Details of the Registered Proprietor
Details of the Agent
Registered Trademark Number
Type of Mark
Purpose of Request
Amendment Requested for the Proprietor and his or her details
Details of the person making the application
The next step is the submission of relevant documents to the registrar of Trademark Registration. You should do this within six months of the acquiring date of proprietorship.

After successful application processing, the applicant now needs to advertise it and submit a copy of the advertisement to the Registrar's Office.
Post completion of the above tasks and the filing of documents, the Registrar will examine the application, and if the Registrar gets satisfied, the application will get approval.
Hence, you can see it is a complex and lengthy process. A minor mistake can waste your time, energy, and money. However, you can save yourself from the trouble of making mistakes, not knowing the type of trademark class, etc.
You should also know about the types of Trademark Assignment to have a detailed understanding of the process to transfer ownership of Trademark.
Types of Trademark Assignment
There are basically four types of Trademark Assignment. In other words, you can transfer ownership of a trademark in four ways. These are:
Complete Transfer or Complete Trademark Assignment
All trademark rights, including the privileges to even further transfers, collect royalties, sell, and so on, are transferred to the third party. In other words, Once the trademark is completely transferred to the other person by this agreement, the owner of the trademark loses all rights to it.
Trademark Registration Transfer Limited to only some goods/services
In this scenario, the trademark rights are transferred partially restricted to some goods and services. In other words, you may keep some rights to yourself and restrict the transfer to only some goods and services.
Trademark Assignment including Goodwill
You as trademark registration owner transfer the Trademark Rights and the Goodwill connected with it. This allows the new trademark owner to utilize the designated brand name for goods and services that have already been supplied under the trademark. It also allows the new proprietor to utilize the mark for almost any new company and its products he or she actually creates or sells.
Trademark Assignment without Goodwill
Gross Assignment is another term for  "Trademark assignment without goodwill." In this scenario, the trademark owner restricts the other proprietor's ability to use Trademark Registration for goods or services which they already supply. As a result, any goodwill associated with a register trademark in India in relation to a product or service currently does not transfer to the customer.
Moreover, you require any kind of guidance related to Trademark Registration. Please feel free to contact us at 8881-069-069.
Download E-Startup Mobile App and  Never miss the latest updates narrating to your business.