Along with AD Code Registration and Spice Board Registration, Entrepreneurs and Indian exporters of spices and masala should also focus on one more important concept. One of the most significant concepts for masala companies is Logo Designing. Therefore, you will understand the importance of Logo Design for Masala Company in this article. This article will also be valuable to other business entrepreneurs to understand more about logo designing.
What is a Logo?
A Logo is a form of branding and marketing that communicates with the customers. Generally, a logo is a graphical image. It can also contain some text or a tagline.
In simple words, a logo is like a business emblem. It is the unique symbol of business that you can use for a variety of purposes. Logos are everywhere around us and every company or business should have one to make a unique identity and succeed in the business.
Importance of Logo Design for Masala Company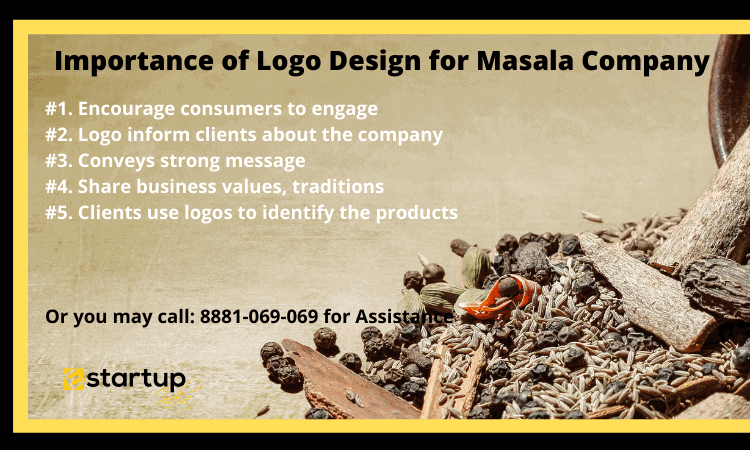 Logo Design for Masala Company or any other company plays an important role in all aspects of the business. Whether it's marketing, sales, or value creation, a Logo plays a significant role in all the domains. Some of the best reasons why a Logo Design for a Masala Company is important are as follows.
A well-designed logo establishes trust by demonstrating your authenticity and encouraging consumers to engage.
It informs potential customers about who you are, what you are doing, and how you might support one another.
The unique logo design conveys a strong message to those who have no prior information or experience with your company that you offer unique goods or services.
Indian Food is popular for spice and masala food. Indian food is getting popular across the globe. Hence, a good logo design can communicate your business values, traditions, and trustworthiness in a foreign market.
Certain symbols have evolved to symbolize specific sectors or goods. Hence, a masala company should have a unique logo that helps the customers distinguish you from other businesses.
Mistakes to avoid while you do logo Designing
There are several mistakes we tend to make while logo designing. A logo that is not well-designed can fail entirely to communicate the message. Besides, it can also damage the business's reputation. Hence, you should avoid the following mistakes while logo designing.
Designing Logo by Yourself
Many terrible logos result from a business owner attempting to handle everything themself. They need to have something quickly, so they make it on their own or seek the assistance of a colleague. But Logo is the face of the company and branding.
A messy logo can very well weaken target customers' faith in you and prevent them from purchasing your items.
Not Considering the choice and type of customers
Many business owners select a logo based on their own preferences. They choose colors, symbols, and typefaces that they like. The difficulty is that they aren't always their ideal clients.
So, you need to analyze your customers. The more you know about your customers, the more you will be able to give a personal touch to your logo for the customer. As a result, it will appeal to customers more.
Not having Copyright Registration or Trademark Registration
Imagine you have all your Business Products stolen and how will you feel? Certainly, it will be a terrible feeling. The same goes for intellectual property.
Logo Design is an intellectual property and a valuable asset of every business. However, it is also the fact that others can misuse it and damage the reputation of your businesses using an identical logo.
Thus, competitors can use this for their own advantage and all your efforts to build a brand may go in vain.
However, there are two best ways to stop this from happening. Furthermore, it can also help you build a more reputable brand image. The two most important ways to protect your logo design and eventually your business are:
Conclusion
Logo Design for a Company in India is an important aspect of business progress. You should always be careful and consider logo designing from a professional designer and then have trademark registration or copyright registration to keep it secure.
Moreover, If you want any other guidance relating to Spice board Registration or Logo Designing. Please feel free to talk to our business advisors at 8881-069-069.
Download E-Startup Mobile App and Never miss the latest updates narrating to your business.