The Reserve Bank of India (RBI) made an important announcement on Friday. They have decided to remove the Rs 2000 currency note from circulation.
However, it's important to note that these notes will still be considered legal and valid.
If you have any existing Rs 2000 notes, you can deposit or exchange them at banks until September 30.
But keep in mind that there is a limit of Rs 20,000 for each transaction.
Rs 2000 Notes to Be Withdrawn from Circulation
The Reserve Bank of India issued advice to the public about the Rs 2000 notes, which were introduced during the demonetization period in November 2016.
They have recommended that people deposit these notes into their bank accounts or exchange them for notes of different denominations at any bank branch.
Furthermore, the central bank has instructed banks to discontinue issuing Rs 2000 notes starting immediately.
RBI Provides Guidelines for Depositing and/or Exchanging Rs 2000 Notes
To ensure smooth operations and avoid disruption at bank branches, the exchange of Rs 2000 banknotes can be done up to a maximum limit of Rs 20,000 at a time, starting from May 23. 
Moreover, all banks are required to provide facilities for depositing and/or exchanging Rs 2000 banknotes until September 30, 2023. 
Deposits into bank accounts can be made without any restrictions, following the usual procedures and complying with existing instructions and applicable laws, as stated by the RBI.
Starting from May 23, the option to exchange Rs 2000 notes, up to a maximum limit of Rs 20,000 at a time, will also be available at the 19 regional offices of the RBI that have issue departments.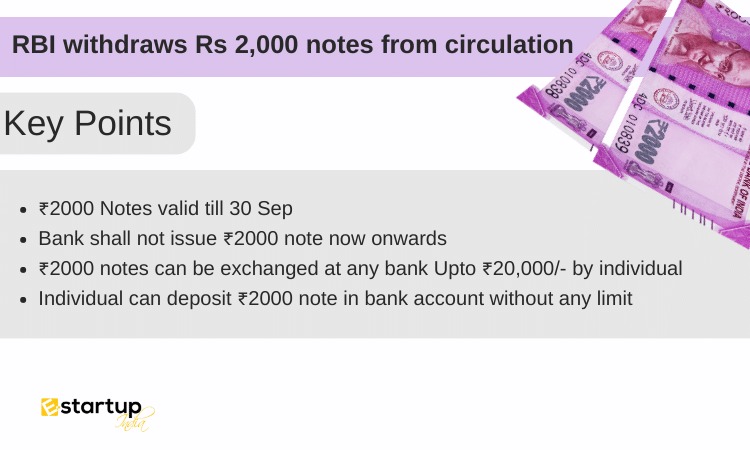 Have any other queries?
Talk to our experts:

How to File Online or physical Complaint with RBI Banking Ombudsman
Moreover, if you require any kind of guidance related to the withdrawal of Rs 2,000 notes from circulation, please feel free to contact our business advisors at 8881-069-069.
Download E-Startup Mobile App and Never miss the latest updates reciting to your business.