Dog farming is a wonderful choice for anyone looking to establish a side business. This business does not need multiple arrangements. You can start this business while still doing your regular employment duties. You simply need a few certain breeds of dogs in your home to begin making money. For-profit, you can breed them and sell their children in the local market. In this article, you will learn how to start dog breeding farm in India. You will also know about the benefits and registrations of the dog breeding business in India.
Advantages to start dog breeding farm in India
One advantage of starting a dog farming business is that you don't have to quit your existing work to do so, which means you won't have to devote an excessive amount of time to the venture.
There are several ways to start a dog breeding company from the comfort of your own home.
By starting a dog farm at home, you won't have to give up your existing employment.
There aren't many more prerequisites for starting a dog breeding company in India, but you'll need to buy a few specific dog breeds and get started breeding them in order to sell the puppies at dog marketplaces, whether online or offline.
You can start dog breeding farm business online and offline too.
Pet owners will adore this as a business opportunity. It's a lot of fun, and it's also a great way to get additional money, so it's popular with many people. As a result, dog breeding is becoming a popular small business choice. This company does not need any special arrangements.
Scope of Dog Breeding Farm in India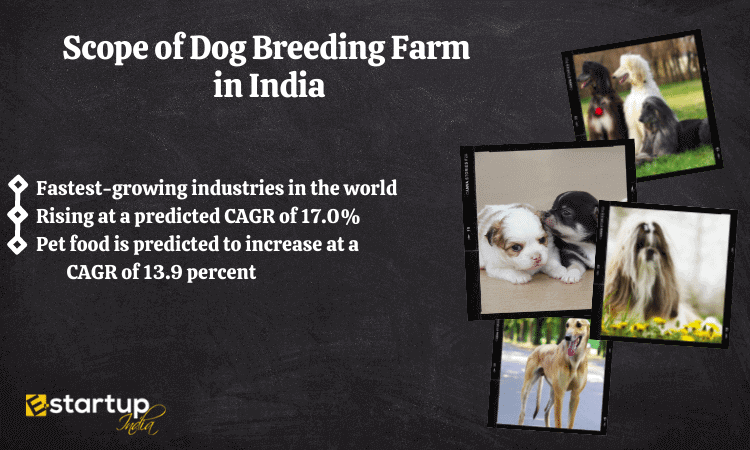 The pet-owning and pet-loving lives of millennial and Generation Z customers have grown in popularity as they have reached adulthood. While baby boomers make up 32 percent of pet owners, families led by younger generations make up 62 percent of the total number of pets kept.
It is possible to make a living selling pet food (nutritional or medicated), pet care items (such as veterinary care and supplies/OTC), pets accessories, live animals, kennel/grooming/boarding, and other related services in the pet care sector. India's market for pet food is predicted to increase at a CAGR of 13.9 percent, while the urban and elite sectors are seeing strong growth in pet supplies and maintenance.
Indian pet care is one of the fastest-growing industries in the world, rising at a predicted CAGR of 17.0% (2018-2024) compared to a worldwide CAGR of 5.2%. Despite this, India's pet care market is only worth about USD 0.8 billion (2019-2025).
How to start dog breeding farm in India?
Develop a business strategy
As an entrepreneur, having a well-thought-out strategy is vital. Map out the details of your firm and uncover some unknowns using this tool. A few things to think about:
How much money do you have to put into a dog breeding operation?
How dangerous is it to run a dog breeding establishment?
How much does it cost to start a dog-breeding business?
Who is the intended audience for this product?
Is it possible to profit from the dog breeding industry?
What will be the marketing methods and licenses required for your dog breeding farm?
Decide the type of company registration
Get mandatory License and Registration
Once you begin to start dog breeding farm in India, you will need some mandatory licenses and registration. The license and registrations may vary as per your business model and at the scale of business. However, the basic license and registration you require to start dog breeding farm in  India are as follows:
Trade License
Pet Shop License
Aadhar Card
Marketing to start Dog Breeding Farm in India
The internet is a fantastic tool for promoting your pet store. Consider the following options:
Create email newsletters, as part of your newsletter, you may add information about current and upcoming product launches, sales, and other events. Think about including a one-page meet and greet with photos of local pet owners and their dogs.
Create a pet blog to assess client demands and educate them on your products and services.
You can also use website development to have a unique website for your own business.
To ensure that your website is current with instructional information and products, it is vital to regularly update it. Aim for client retention by offering incentives like coupons and discounts.
Conclusion
The dog breeding farm in India is a highly profitable business. You also need not invest your whole day and can work part-time for this business. Hence, if you need any information or registration to start dog breeding farm in India, you can contact our business advisors.
Moreover, If you want any other guidance relating to Company Registration Online, please feel free to talk to our business advisors at 8881-069-069.
Download E-Startup Mobile App and Never miss the latest updates narrating to your business.