Handloom is one of the most promising businesses with global economic potential due to the obvious ever-increasing demand both domestically and internationally. Far from being a dead industry, the industry is experiencing a paradigm shift, even providing a chance to launch your business as a solopreneur by launching a small single-owner firm. E-commerce platforms such as Amazon, Meesho, and Flipkart might help bring Indian handlooms and textiles to the global attention and assist the craftsmen to earn a living. If you wish to start a handloom business in India, you must know a few things such as process, advantages, and scope. In this article, you will know about starting a handloom business in India, its advantages, and registrations.
Advantages to start a handloom business in India
India has a long history of using handlooms to produce its textiles and weavings.
Humans' most fundamental needs are met by the handloom business.
It also contributes significantly to exports and GDP.
Rural and urban residents alike might find work in this business.
It both, directly and indirectly, contributes to the creation of new jobs.
India's handloom industry is the country's second-largest source of jobs after agriculture.
43.3 million people work in the handloom industry, producing 23.77 million handlooms.
This industry is both productive and labor-intensive.
The sector generates around 15% of the country's clothing manufacturing.
It also helps the country's export earnings. India is the source of around 5% of the world's handwoven cloth.
Transferring knowledge and skills from generation to generation is a common occurrence in the handloom industry.
It is praised for its distinctiveness, ease of manufacturing, willingness to experiment, and capacity to meet the needs of its suppliers.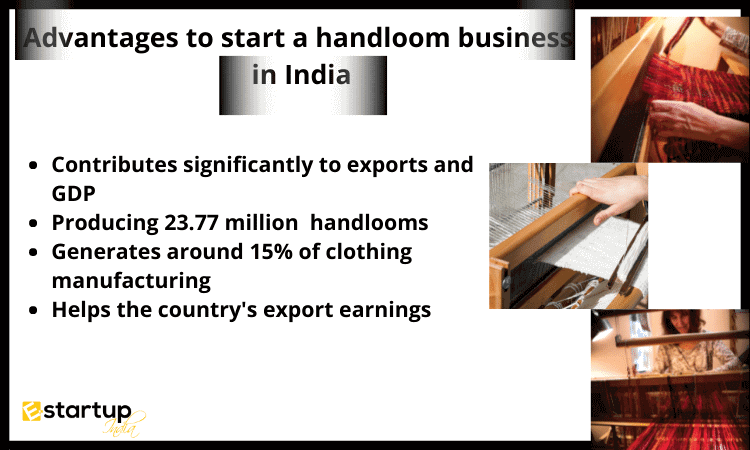 Scope of Handloom Business in India
There are about 2.41 million looms in this industry, which means it has a strong foundation and a lot of manufacturing power.
The distinctive patterns and flair of Indian handloom products have made them popular across the world. The current fad is to make one-of-a-kind goods by fusing classic design with cutting-edge technology.
About 15% of India's total textile output is produced on handlooms.
More than nine out of ten of the world's handwoven textiles are made in India. Hence, it's highly profitable to start handloom business in India to export goods. To start an export business, you must have an Import Export Code or IEC code.
How to start Handloom Business in India?
Learn more about the products you use
Anyone who has worked in the fashion sector before will not be starting from scratch. Enrolling in a brief continuing education course on the basics of textiles, how they are made, and the differences between power looms and handlooms could be a good idea. It's best to go to a NIFT center to learn about handloom business.
Clear all paperwork
There is a legal and financial component to every firm. There will be a legal component to launching a fabric or handloom business, regardless of the size of the firm.
Examples include obtaining a trade license, online company registration, GST Registration, or renting or owning a company location. Depending on where you're located and how big your company is, the rules and standards will be different, but they're all important. Also, get a small business loan to help you out financially.
Discover where to buy handlooms and who to buy them from
The Ministry of Textiles has a number of government entities that can help you identify handloom suppliers. High-quality, verified goods are available through several cluster programs.
Look at the present trends in the market
As an entrepreneur, you must be aware of the continuously evolving dynamics of the market.
A thorough examination of every aspect of the business, including pricing and customer behavior, is required.
In the long run, it is also beneficial to have a good grasp of the market. It'll help you keep up with the latest fashions.
You can use ISO Certification for your handloom products to make them worldwide famous.
Start small by selling a small sample batch
Make sure you're only investing what you can afford to lose in the worst-case situation. Hence, the use of branding and packaging activities might make your products stand out in an overly crowded marketplace. You should also start by selling small sample batches of your handloom products. If you succeed here, Trademark Registration is also valuable to make a unique brand and protect it.
Conclusion
The above-mentioned are the necessary steps to start a handloom business in India. If you wish to know more about how to start a handloom business in India, you can contact our business advisors.
Moreover, If you want any other guidance relating to Company Formation. Please feel free to talk to our business advisors at 8881-069-069.
Download E-Startup Mobile App and Never miss the latest updates narrating to your business.