Creating a visually pleasing interior environment for clients is the primary goal of an interior design firm. According to a poll, the number of individuals seeking an interior designer to help them with their residential and commercial spaces has increased by 30%. Many millennials are choosing careers in the arts and media over more traditional career paths. Designing homes and businesses from the inside is a lucrative career path that may lead to owning your own business in India. In this article, you will learn to start Interior Designing Business in India.
Advantages to Start Interior Designing Business in India
You don't need a lot of money to start interior business in India.
 The most basic needs are a computer with suitable software, desks and chairs for meetings, portfolio, as well as a wifi connection. As an alternative, you may engage an assistant who can support you with prioritising your tasks and taking care of your clients.
An interior designer with exceptional talents and good business skills might earn between Rs. 10,000 and Rs. 60,000 per customer, depending on the tasks. Furthermore, better returns on investment can be achieved through partnerships with other providers.
Interior design is a broad area that includes sub-disciplines such as basic and sophisticated carpentry, fabrication, antique furniture refurbishment, flooring, furnishing, basement renovation, plumbing, electricity, and ceilings, among others.
Job pleasure comes from watching a customer's face light up when they see how their home or business has been turned into an attractive and useful environment. Indeed, interior designers have the opportunity to work on a project that is highly personal to their clients.
What is the scope of Interior Designing Business in India?
Indian real estate, population expansion, rising economic levels, and urbanization
 have all contributed to the rise in interior design.
Additionally, smart houses, the impact of social media, and alterations in living standards and lifestyles all contribute to a rise in demand for interior design services.
India's home interiors and refurbishment industry is expected to be between USD 20 Billion and USD 30 Billion.
The interior design solution has developed as a progressive trend in the industry due to the consistent development in demands from commercial real estate. Since demand for commercial space continues to rise, the sector is projected to benefit greatly in the future.
Over the following five years, the India Interior Design Market is expected to expand at a CAGR of more than 7%.
How to start Interior Designing Business in India?
Get Company Registration
The first thing you'll need for your business is a legal entity, such as a corporation or Limited Liability Partnership. It's no longer tough to have company registration in the modern world. Most of the registration procedure is online and there are experts available as well that can assist you register a corporation for a little cost. You can choose any of the business entity types from the following:
Sole Proprietorship Registration
Know your target customers
As an interior design company, you need to specialize in a wide range of services that include anything from home renovations and basement remodeling to bespoke furniture coverings and sales and installation.
So, first and foremost, identify your target audience.
Find out how big the market is and what kinds of items and services are most popular with your target customers.
Make sure you know what your consumers want from your interior design services before you begin working with them.
Begin by gaining an understanding of the demographics and shopping behaviours of your target audience. Be aware of the times of year when your clients are more likely to buy your products, and adjust your strategy appropriately. It's critical that you have a realistic picture of who your intended audience is.
Invest in the business
Interior design businesses, like any other, require an initial financial investment to get off the ground.
You simply need to endure certain operational costs, rent an office, and acquire basic office items such as a laptop, printers, workstation, chair, marketing, and so on.
You can also avail business loans to start your interior design business in India.
Build your Portfolio
Online platforms like Google or other local search engines are now widely used to locate the top interior designers and decorators in the market and to research relevant data such as costs, services provided, and customer testimonials, amongst other things.
When you're first getting started, attempt to focus on describing your procedure of operation and the distinctiveness of your organization on your website.
Wait for your customers to spread the word about your business by enticing them to invest in your products and services. Maintaining a steady stream of new clients or projects completed is a great way to grow your online portfolio.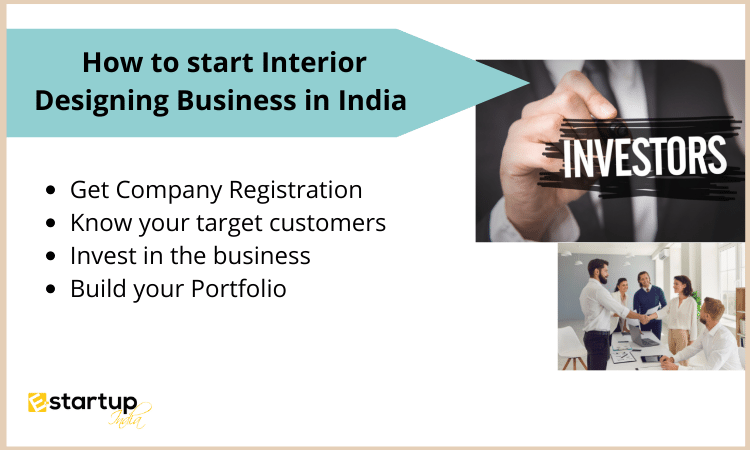 Get Mandatory Registrations to start Interior Designing Business in India
Along with company registrations, you need to get some mandatory registrations to start Interior designing business in India. These are mentioned below:
Trade License Registration
Apply for Beneficial Certifications
Along with the above mentioned, there are multiple beneficial schemes, certifications and registrations that you must have if you want to boost  the growth of your company. For example,
Trademark Registration: You can have Trademark Registration online. The trademark registration in India allows you to build a unique brand of your business. Also, it aids to safeguard your branding and you get the benefit of becoming the sole owner of the registered mark.
ISO Certification: ISO Certification is the certification given by third party bodies. ISO Certification helps you build a strong image and provide quality service to your clients.
MSME Registration: MSME Registration or Udyam Registration is the government initiative to provide several benefits to the business in India. Using MSME Registration, you can also get subsidies on Trademark Registration and ISO Certification. MSME Registration also assists you in getting business loans without collateral.
Conclusion
In this article, you learnt important things related to interior designing business in India. The interior designing business is highly profitable if done correctly. Hence, it's best to start interior designing business in India through proper guidance and consultation from business experts.
How to get GST Registration if I am starting a new online business
Moreover, If you want any other guidance relating to Business Plan & Project Report, please feel free to talk to our business advisors at 8881-069-069.
Download E-Startup Mobile App and Never miss the latest updates narrating to your business.