Each private college is a one-of-a-kind institution. Each private institution develops a unique ambiance by varying its curriculum, academic requirements, and mission statement. Hence, if you wish to start private colleges in India, you must know the complete process and create a unique business plan.
Advantages to Start Private Colleges in India
Higher education institutes in India have multiplied dramatically since the country's independence.
There had been a dramatic growth in the number of colleges in India during the 1950s, rising from 578 in 1950 to 30,000 in 2011.
Today's generation also understands how critical it is to obtain a college degree in order to not only improve one's social standing but also to open up new professional paths and secure a higher standard of living.
Stepwise Procedure to Start Private Colleges in India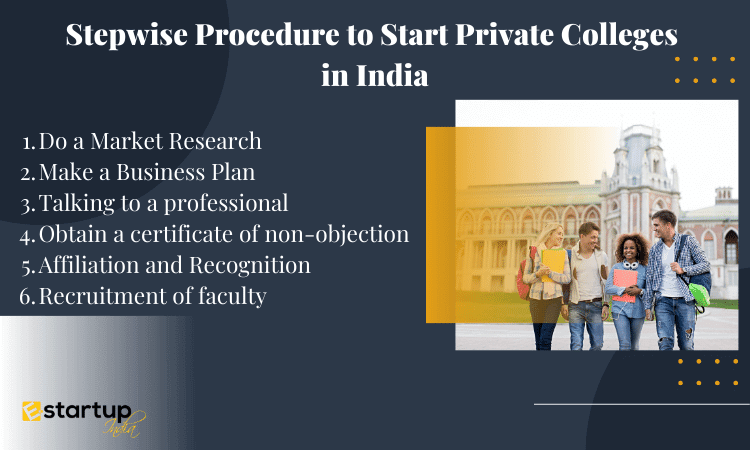 Question yourself and do a Market Research 
Before deciding to open a private college in India, you must first decide on your area of expertise and write a mission statement.
Think about why you want to start private colleges in India. What do you feel you can add or improve to the existing educational groups in your area (or perhaps globally) that are now missing? How would you describe the rationale, focus, and pedagogical methods you employ in your instructional work?
Your Private college in India can either be located in a real location, or it might be entirely online. If you'd want to combine the two, you may also provide virtual classes from a physical location.
Make a Business Plan
Private colleges require a great deal of dedication and forethought to get off the ground. As a result, the first step in starting a college is creating a business plan that details all of the necessary elements.
Budget, land, infrastructure, affiliation, and marketing are among the most important aspects to consider when launching an Indian private college.
Here, you should also think about registering your college as a legal entity.  You can start private colleges in India through company registration such as:
Talking to a professional
Along with the aforementioned, proprietors should seek advice from those with extensive expertise in building educational institutions such as colleges. They can work together in areas such as community evaluation and program planning to ensure that the institution is at its best.
It is important for entrepreneurs to make sure that their college goals and projects are in sync with the local community's unique traits and needs.
Obtain a certificate of non-objection and purchase land for a private university
The Directorate of Higher Education in the state where you plan to open a private college must issue you with a "No Objection Certificate." The land-owning office of the state will distribute a plot of land to your group or organization based on this NOC.
Affiliation and Recognition 
Once you've decided on a college name and a plan, you'll need to apply for a college license. Obtaining approval from numerous government agencies will need a lot of legwork. The University Grants Commission (UGC) must approve your college application. Central and state rules, such as UGC standards and norms, must be met.
Recruitment of faculty and promotion of a private Indian college
Once the aforementioned formalities have been completed, you may begin the process of hiring new employees. Therefore, you have the authority to run meetings of the College's teaching, non-teaching, and authoritative personnel.
Last but not least, you need to start promoting your private institution in the area. You can place notifications in high-traffic places, such as along inhabited roads. Affirmations open posters may be distributed in the region, and online marketing can be used as well.
Final Words
Even if starting a college is not an easy task, it can be done with the support of a professional team and research. If you wish to start private colleges in India and need any assistance feel free to consult our business advisors.
Moreover, If you want any other guidance relating to Company Formation. Please feel free to talk to our business advisors at 8881-069-069.
Download E-Startup Mobile App and Never miss the latest updates narrating to your business.