In the first seven months of 2021-2022, India has made record progress in the number of exports. From April – to September 2021, India has exported goods worth more than $197 billion, and the monthly export amount has been above the $30 billion mark. Hence, Export business in India is highly profitable. If you also want to start export business, this article is for you. In this article, you will get to know about the top 10 export products from India.
Top counties to which Indian products are exported
USA
China
United Arab Emirates, UAE
Hong Kong
Bangladesh
Singapore
Nepal
United Kingdom
Netherlands
Top 10 export products from India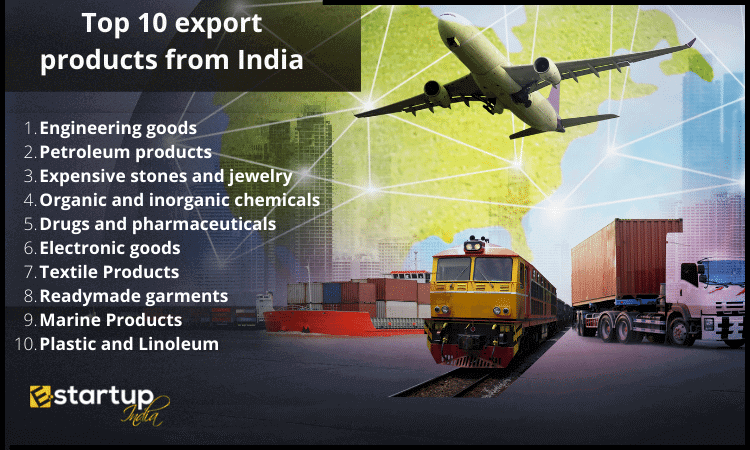 Engineering goods
These products include everything from industrial machinery and equipment for automobiles and their parts. It provides everything made from iron, steel, and other essential metals. The Indian engineering board export Mark has crossed the 9 billion dollar mark. That is a significant demand for traditional markets in the US, China, and UAE. Also, in 2020-21 engineering goods were India's top exports, and the country earned about 75.97 billion dollars.
Petroleum products
The petroleum products exported from India include gasoline, petrol, diesel, jet fuel, liquid petroleum gas, lubricants, etc. India is considered among the top five exporters of refined petroleum products, which mainly cater to the markets in countries like UAE, China, the US, Singapore, and the Netherlands. India is the second-largest exporter and refiner in Asia after China.
Expensive stones and jewelry
These products include both Rudolph and cut and polish diamonds, golden jewellery, coloured gemstones, pearls and non-golden jewellery. India is also a major exporter of imitation or synthetic stones. The country ranks 5th among the global exporters of gems and jewellery products with a 5.8% share in the global market.
The main markets are Israel, Hong Kong, the US, UAE, and Belgium. Gems and jewellery make up 14% of India's total merchandise export products from India.
Organic and inorganic chemicals
All the chemicals that have carbon in their molecular structures are known as organic chemicals. They have hundreds of uses and are primarily used in pharmaceutical and medical applications. They are also used by various industries to produce plastic.
Inorganic chemicals on the other hand do not contain carbon in the structure and are used in the automotive, paint, and paper industries and are used in the production of cleaning solutions. Some of the common inorganic chemicals exported by India include liquid chlorine, soda ash, red phosphorus, caustic soda, and calcium carbide. The target audience is the US, Brazil, China, Germany, and the UAE.
Drugs and pharmaceuticals
India is one of the largest bases for raw materials and skilled labour. The country is also the third-largest pharmaceutical market in terms of volume. Indian products comprise about 20% of the global genetic drug exports and supply 40% of the genetic formulations used in the United States of America. Additionally, India is also the largest vaccine producer. To export Drugs and Pharmaceuticals, you will need US FDA Certification and Import Export Code Registration.
Electronic goods
Electronic appliances and goods include mobile phones, accessories, laptops, computers, etc. India earned about 11.11 billion dollars in 2020-21 for exporting electronic goods. As global demand is rising daily, the manufacturers are expecting better performance in the upcoming session. By 2025, India can hit up to 180 billion dollars in electronic goods export. You need AD Code Registration along with IEC Code Registration to export electronic goods.
Textile Products
India is known as the second-largest producer of cotton and exports 23% of the world's cotton. It also has the largest area for cotton cultivation. As the Indian exile industry largely depends on cotton, it accounts for about 40% of India's total textile export in June 2021.
Readymade garments
India's RMG industry includes garments made from natural fibers like cotton and wool combustion, as well synthetic and man-made fibers. Cotton is the main raw material for the production of garments in India. India is the fifth largest exporter of RMG and it carries the market of Germany, the UK, UAE, and the US.
Marine Products
The main Indian sea products that are exported are frozen shrimp and fish. The United States of America is the main importer of Indian marine products which is followed by countries like Japan and China. You need to have FSSAI Registration and FIEO Registration in order to export food products from India.
Plastic and Linoleum
India is one of the largest manufacturers and exporters of various types of plastic products like packaging, sanitary, laminates, bags, and medical equipment.
There are several other businesses such as the spice business that is highly profitable to export. Learn more about How to start a spice business in India.
If you need any assistance with the top 10 export products from India or any other export business idea, you can consult our business advisors for free.
Moreover, if you require any kind of guidance related to the Import export code, please feel free to contact us at 8881-069-069.
Download E-Startup Mobile App and  Never misses the latest updates narrating to your business.