Mobile Applications are becoming more and more popular. Everyone these days has a smartphone. The smartphones run various mobile applications. Mobile Applications provide all those functionalities that you use. However, most of us also use third-party apps or applications available on the iPhone Store or Google Play Store. In this article, we will understand all the necessary information about Trademark Registration for Mobile Application.
These mobile applications serve a function that you can decide. For example, you can download books reading app to read books. However, there can be multiple mobile applications providing the same service. Thus, it would be best to protect branding as a mobile developer or a mobile application business owner. The competitor businesses or other developers might start using your branding for their profit. Furthermore, there are several other reasons why you should have a trademark registration for mobile applications.
What is a Mobile Application?
A mobile application or an app is simply a computer application. In other words, it is software that performs various tasks on a mobile phone. Generally, there are two types of Mobile applications or apps per user perspective.
Default Apps – Operating System apps that provide basic functionalities. For example, Call, Calculator, Calendar, Camera, and several others.
Third-Party Apps – These are the apps you install from the Google play store on Android phones or an App Store on the iPhone. There can be a variety of third-party apps such as E-Startup Mobile App for business registration, consultation with CA, etc., InstaBill app for GST Invoicing and Accounting, etc.
What is a Trademark?
A trademark, in basic terms, is a logo or graphical representation used to distinguish one product or service from another. For example, a company's name or logo, a brand's name, or a product's name.
Trademarks and trademark registration online can comprise numerics, images, photos, three-dimensional features like product kind and packaging, and non-visible signals like tones, colors, etc. Anyone can own a trademark, whether a company or an individual.
What is a Trademark Registration for Mobile Application?
Trademark Registration is the legal and the safest way to protect your trademark or brand identity. To get Trademark Registration, you need to fulfill the certain Conditions for Registration of a Trademark in India.
After acquiring the Trademark Registration in India, you get exclusive rights for using the trademark of your product or service. It also aids in legal action against the other party who misuses your trademark.
Why is Trademark Registration for Mobile Application Important?
The mobile application development companies usually launch an app after receiving trademark registration online. It restricts other developers to create apps with the same trademark.
App Owners having Trademark Registration can apply for the removal of other unauthorizing or misusing the trademark of the original app.
Furthermore, Trademark Registration provides additional credibility to the mobile application.
Without Trademark Registration, you cannot sue another party for misusing the trademark for the mobile application.
Trademarks are valuable assets. As a result, trademark registration for mobile applications allows you to rent out the trademark as intellectual property.
How to get Trademark Registration for Mobile Application in India?
Upload the documents and share the information on our web portal.
Get Brand Logo Designing by Professional Designer for your mobile application.
If you already have a trademark design, Choose the package and pay online on our website. Our experts will start a rigorous search for uniqueness of it so that you can avoid Trademark Formality Check Fail
After successful search outcomes, our business professionals will file trademark registration online applications before the IPR department.
After approval, we will deliver you a Trademark Registration Certificate.
What is the document requirement for Trademark Registration Online?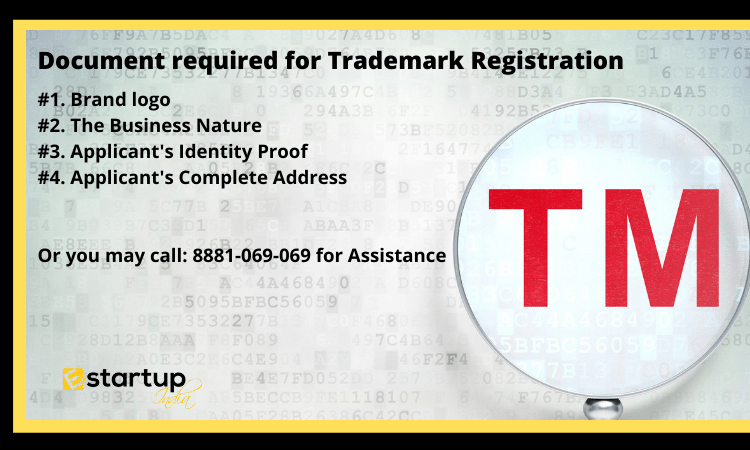 You need to provide the following documents to get Trademark Registration Online.
You wish to register a logo in jpeg or png format as a trademark in India.
You must include a brief description of the business activity under the brand logo that you want to protect through a trademark registration online application. It is necessary to determine the suitable trademark class. Here is the complete list of Trademark Classes.
Applicant's Identity Proof: 
Any applicant's identity proof document is necessary, such as an Aadhar card, passport, or driver's license.
Applicant's Complete Address: 
The Applicant must also provide the Applicant's complete address for a Trademark Application.
Moreover, you require any kind of guidance related to Trademark Registration. Please feel free to contact us at 8881-069-069.
Download E-Startup Mobile App and  Never miss the latest updates narrating to your business.