To register a trademark in India, you need to make an application for trademark registration online. There are various types of Trademark Application forms in India. You must know about the types of Trademark Application forms in India to avoid Trademark rejection, save money, time and energy. In this article, you will understand the most important and the main trademark application forms in India.
What is a Trademark Registration?
A trademark is a brand or emblem that identifies a certain business, company, or organization.
There are many different types of visual symbols and signs that may be used by the owner of a company. For example, Brand names, logos, symbols, and taglines may all be trademarked by companies to protect their goods' and services' uniqueness.
Thus, Having a trademark registration online allows a company or person to set their products or service apart in competition with those of other companies or individuals.
Types of Trademark Application forms in India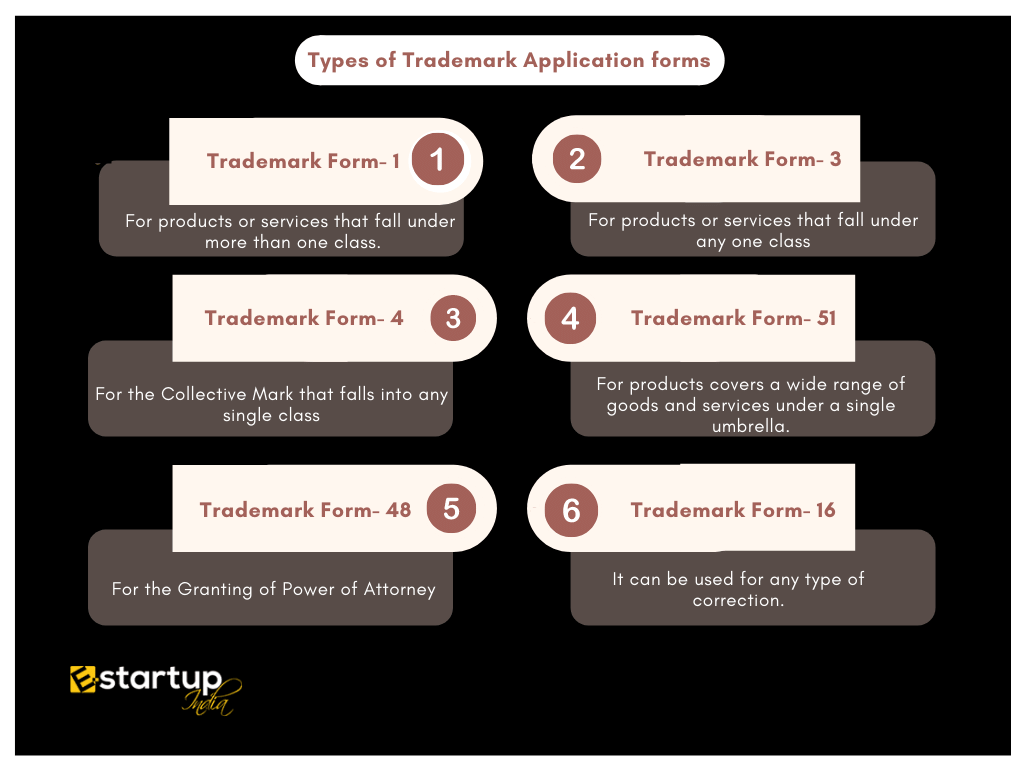 The most important types of Trademark Application forms in India are as follows:
This form applies to the registration of trademarks for products or services that fall under more than one class.
Trademark Application Form ™ – 3
Proposal for the registration of a collective mark for products or services that fall under any one class.
Registration of a Collective Mark that falls into any single class.
T-51 Trademark Application
A trademark registration application that covers a wide range of goods and services under a single umbrella.
™ -48 Application is for the request for the Granting of Power of Attorney
It can be used for any type of correction.
FAQs on Trademark Registration Process
How is a Trademark Search Performed?
There are two basic ways to do a trademark search: one that is very specific and the other that includes every possible way to protect a trademark that is even remotely similar to the one that is being searched for.
When deciding on a search strategy, keep in mind the mark's characteristics, the products and services it encompasses, the anticipated launch date, and the number of resources the applicant expects to devote to the search process.
Which form is mandatory for Trademark Registration?
When applying for trademark registration under the Trademarks Rules, 2002, the Form TM-1 was required. When it comes to trademark law in 2017, the Trademark Rules, 2017 have superseded the Trademarks Rules, 2002. The Form TM-A is the form that needs to be filled out to register trademark in India as of now, according to the Trademark Rules, 2017.
Applicants must fill out and sign Form TM-A before submitting it to the Trademark Registry Office in person or online on the Intellectual Property India website.
After registering my trademark, shall I use the TM sign in my LOGO?
Yes, the TM sign is used when an application for trademark registration is lodged with the trademark register. Trademark applications are shown by the TM sign, which acts as a warning to infringers and counterfeiters.
Moreover, you require any kind of guidance related to Trademark registration, Please feel free to contact us at 8881-069-069.
Download E-Startup Mobile App and  Never miss the latest updates narrating to your business.