As we all know ISO Certification of any quality management system confers the assurance to consistency, continual improvement, Environment management and patient satisfaction. These are tangible benefits for ISO 9001 and 14001 certifications for healthcare. Also, it plays a significant part in building a sustainable culture of great accomplishment. In this blog, we will discuss the ISO Certification for Hospital and their benefits.
ISO Certification for Hospital
To streamline the regular hospital operations, and contain the global best practices, ISO 9001 certification is a universally practised quality management standard, adopted by organizations all across the world to systematise and raise the service provided to consumers. The ISO 9001:2015 Standard provides specific conditions for a quality management system that will enhance the ability to deliver care that will meet the requirements of the patient.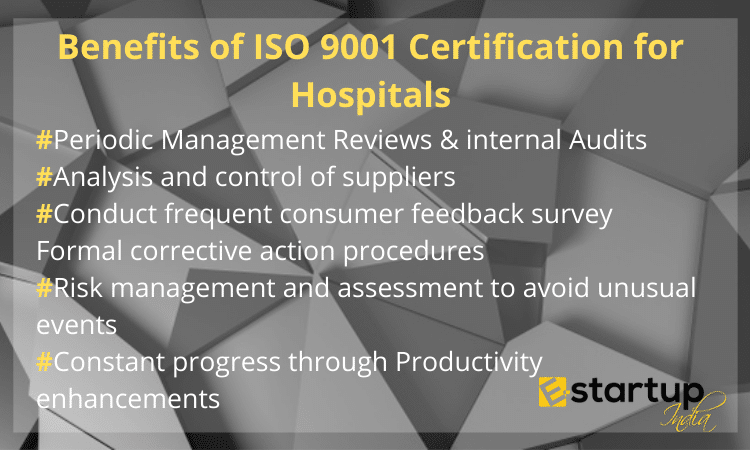 Benefits of ISO 9001 Certification for hospitals
The benefits of showing conformance to the ISO 9001 standard are various:
Periodic Management Reviews & internal Audits
Analyses and control of suppliers
Conduct frequent consumer feedback survey
Formal corrective action procedures
Risk management and assessment to avoid unusual events
Constant progress through Productivity enhancements
The Three C's of ISO 9001 Certification
1 Consistency in the delivery of service
With ISO 9001, this is essential to assure that you're consistently following your methods. As it helps to deliver the best service to the consumers.
2 Customer (patient) satisfaction
As specified, with consistency comes a quality standard to which staff are upheld to, which in return offer better endurance for patients and hospital reputation.
3 Continual Improvements
ISO 9001 drives constant improvement of processes. As it sets goals and standards for businesses to build from. The major aim to continually improve the importance of consistency and customer satisfaction as they are directly impacted.
ISO 14001 Certification for Hospitals
ISO 14001 Certification is a management system standard of the ISO 14000 family that maintains the Environmental Management System of an organization. Also, ISO 14001 Certification has played a significant role to reduce the environmental impacts in the hospital sector.
Benefits of ISO 14001 Certification for Hospitals
The benefits of showing conformance to the ISO 14001 standard are various:
Efficient Supply Chain Management
Excluding Waste and Reducing the Impact
Reducing Energy Consumption
Compliance to the Environmental Laws
Cost savings in waste, recycling and consumption
Moreover, if you need any further guidance as regards the ISO certification in India, please feel free to communicate our business advisors at 8881-069-069.
Download E-Startup Mobile App and never avoid the freshest updates relating to your business.