In the COVID pandemic, ministry of company affairs extended AGM due date till 31st December 2020 from 30th September 2020 however there was no announcement towards the extension of LLP ROC compliances due date. Now the most awaited extension of LLP compliances due dates announced by extending LLP Settlement Scheme to enable LLPs to make good their previous defaults.
Let's summaries the Notifications issued:-
LLP Settlement Scheme 2020
LLP Settlement Scheme 2020 known as a one-time relaxation rendered to LLP's which have defaulted in filing the LLP ROC compliances within the required due dates. The LLP's which opt for this scheme shall not ask to pay late fees /penalty. In other words, LLP can file all their pending ROC compliances without penalties under this scheme. This scheme was started by the Central Government in the exercise of its powers under Section 460 of the Companies Act 2013.
Notification issued for Extension of LLP Compliance Due Dates
MCA had also founded a new scheme known as the LLP Settlement Scheme, 2020 which was previously valid from 01.04.2020 to 13.06.2020 and was later extended till 30.09.2020. 
Recently MCA has announced the extension of annual compliances due dates for companies till 31.12.2020. But no announcement for LLP compliances due to date extension.
Now, the Scheme has further extended to 31.12.2020 to allow LLPs can file their ROC compliances without penalties to make good their previous defaults.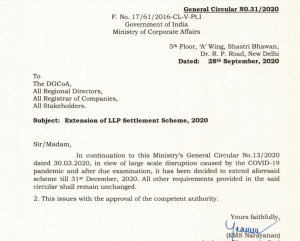 The objective of LLP Settlement Scheme
This is a one-time golden opportunity for the defaulting LLP to file all pending returns without paying any penalties and come clean.
Why LLP Annual Compliances are important?
ROC Records Maintenance and Inspection
This is the Registrar of Companies [ROC] duties to maintain the financial, managerial and secretarial records online at www.mca.gov.in database.
The ROC records of the LLP are open for review by the stakeholders on payment of the prescribed fee. 
However, as the LLP did not file important forms related to LLP annual compliances, the records of the LLP are not updated on MCA database and hence not available for inspection by the stakeholders.
Hence, it is mandatory for LLPs to file annual compliances on time.
Avoid Criminal Prosecution of LLP's Partners
Due to the non-filing of LLP Form to the ROC, the designated partner's are liable for criminal prosecution. 
Under this scheme, on the filing of all LLP annual compliances before the last date of the scheme i.e. 31.12.2020,  the designated partners of defaulting LLP are granted immunity from prosecution.
Summary of Measures taken by MCA in the COVID Pandemic
MCA has extended various due dates which are as under:
 The due date for application under

Company fresh start scheme

has

extended

from 30.09.2020 to 31.12.2020

 The due date for application under LLP settlement scheme has extended from 30.09.2020 to 31.12.2020.

 The time limit for conducting of EGM (extraordinary general meetings) through VC (video conference) has extended to 31.12.2020.

 Extension for the time of filing of various forms related to creation and modification charges under Companies Act, 2013 has extended from 30.09.2020 to 31.12.2020. (In case of debenture etc.)

 MCA has increased the period up to which companies can conduct their board meetings through VCs or Other Audio-Visual Mechanism for all items of business to 31.12.2020.

 The Ministry of Corporate Affairs has also increased the time limit.

within which Independent Directors of companies have to register themselves on the databank maintained by the IICA from 30.09.2020 to 31.12.2020.
Moreover, If you require any other guidance with respect to LLP Annual Compliance, please feel free to contact our business advisors at 8881-069-069.
Download E-Startup Mobile App and Never miss the latest updates relating to your business.