When startups pitch their idea to investors, they're given an average of 3 minutes to make a compelling case to fund their project. With these rigid constraints, it's hard to focus on the big picture, and the result is often a haphazard pitch deck that fails to get investors excited.
As a result, it's a wise decision to outsource to get the startup best pitch deck.
What is an Investor Pitch Deck?
Investor Pitch Deck is simply a tool in the form of a presentation that businesses can use to get funding from potential investors.
If you want the investor to take your company concept seriously, you'll need a pitch deck.
For the investor, a Pitch Deck makes it easy to get answers to questions about the business strategy.
Generally, an Investor Pitch deck is the first impression of your business and investors may request that the pitch deck be delivered to them before the meeting. Thus, your pitch deck also needs to be self-explanatory as well.
Why Outsource Investor Pitch Deck?
It's not easy to have the creativity and discipline needed for successful pitching. Furthermore, Investors need a clear picture of your startup's solution before they'll invest.
They need to be able to follow the logic of your idea, see the practical application for themselves, and be won over by your passion and dedication.
The goal of Investor Pitch Deck is to convince investors that you are the right person with a solid product who can handle any problems that arise and grow investors money. Thus, the Investor Pitch Deck plays an important role in the success of your overall business cycle.
Mistakes here can lead to serious damage. So, one of the best decisions that you can take for your business is outsourcing to get the startup best pitch deck designed by professionals.
Know the Benefits of Outsourcing to get Startup Best Pitch Deck
Get Professional Expertise to prepare pitch deck 
There are thousands of startups like you in the market. Why would investors want to specifically invest in you?
The reason solely can be the uniqueness of your business and your skills to efficiently scale up the business.
As we know, pitch decks are designed by professionals to create the right impact on an investor's mind and get funding immediately.
Thus, You can highlight these unique points in your pitch deck. Professional Expert Designers of  Investor Pitch Deck will help you bring the uniqueness of your business to the front.
Infuse  Creativity in Pitch Deck 
Unique and Artistic Designs look great on business brochures or social media posts. However, when it comes to Investor Pitch Deck, it should be more sober.
That doesn't also mean the creativity should be neglected and you pitch for funding using a boring presentation. Thus, there is a need to properly blend creativity and functionality of your pitch deck.
Startup Best Pitch Deck designed by a team of experts allows you to utilise professional-grade pitch decks while avoiding over use of unnecessary art.
Have  Accurate Financials Projections in Pitch Deck
You will need to have financial projections calculated accurately by a Virtual CFO or an experienced Chartered Accountant. Because, If you're trying to convince people that your business concept has long-term viability, metrics are the most powerful weapon in your arsenal.
To keep investors happy and engaged, it's important to keep them updated on the success of your firm. Demonstrating your traction gives investors confidence in your concept and your strategy's likelihood of success.
Future projections of key metrics and goals reveal where your organisation will be three, five, and 10 years down the road.
Simplify the Message; Save Time and Money
Investor Pitch Deck needs not to be highly academic. While you may want to show your business success through strong facts and figures, however, it can backfire. Investors do not want to get in each detail of your business.
So, These fundamental principles will be simplified by specialists when you outsource the design of your pitch deck, which will save you both time and money.
You're able to relax and unwind.
Finally, opting to outsource with a trustworthy individual or agency should offer you confidence that chores are being done effectively and efficiently without your involvement or lifting a finger. Nothing's better than that. This will also offer you confidence in your pitch deck presentation.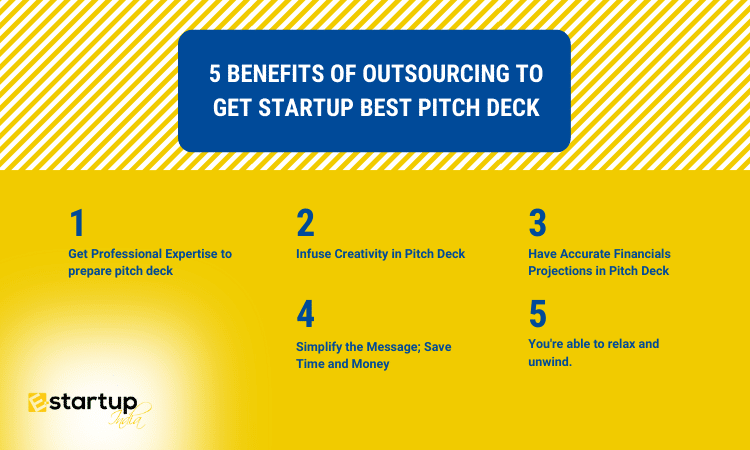 Things to keep in mind while outsourcing to get Startup Best Pitch Deck
Make sure to check the company you are working with has prior experience in creating pitch decks.
Check with the online reviews of the company.
Contact the company before making the payments.
Analyse the total costs involved.
Always do proper communication and share your views.
Understand the Expert's perspective too.
Investor Pitch Decks are important to get funding and overall growth of your business. Taking risks and losing your investment opportunities might be the last thing on your list. Hence, it's best to outsource to get Startup best pitch deck for your business.
If you are looking to prepare a pitch deck for your startup. Consult E-Startup India professionals for Free.
Moreover, If you want any other guidance relating to Pitch Deck, please feel free to talk to our business advisors at 8881-069-069.
Download E-Startup Mobile App and Never miss the latest updates narrating to your business.