APEDA Registration is one of the most beneficial government schemes in India. The APEDA Registration has also become a live example for many businesses of how joint efforts can result in successful outcomes. However, many people are still have confusion about it. Therefore, they search for APEDA Registration consultants in India. As leading APEDA Registration consultants in India, we are going to tell you all the necessary information about APEDA Registration.
What is APEDA? What is the role of APEDA?
Agricultural and Processed Food Exports Development Authority (APEDA) is an Indian Government body. It acts as an Export and Trade promotion body.
The government formed APEDA in December 1985 through the Agricultural and Processed Food Products Export Development Authority Act in parliament.
The APEDA provides several benefits and schemes to facilitate export. Moreover, the Scheduled Products are a special focus of APEDA. Thus, it allows the department to focus on only a few products and provide better schemes and results.
It is important to note that everyone who wants to avail of the benefits must register under APEDA. Thus, the role of APEDA is to facilitate exporters of scheduled products having APEDA Registration.
What is APEDA Registration or License?
APEDA Registration is a mandatory requirement to export scheduled products from India. As per APEDA Act, APEDA issues a registration certificate to exporters. This certification is a registration cum membership certificate that one can use to avail of the multiple benefits of APEDA Registration.
You can obtain APEDA Registration as one of the following. 
APEDA Registration as Merchant Exporter
APEDA Registration as Manufacturing Exporter
You can easily obtain APEDA Registration by contacting our APEDA Registration Consultants in India at – 8881-069-069.
What are scheduled products as per APEDA?
The APEDA focuses on export promotion and development of certain products. These products are known as scheduled products. The list of scheduled products is as follows.
Fruits, vegetables, and their derivatives
Meat and Meat-Related Products
Poultry and Poultry-Related Products
Products made from milk.
Confectionery, Biscuits, and Bakery Items
Products made from honey, jaggery, and sugar
Cocoa and its derivatives, as well as various chocolates.
Beverages, both alcoholic and non-alcoholic.
Cereals and Cereal-Related Products
Walnuts, groundnuts, and peanuts
Chutneys, pickles, and papads
Guar Gum
Floriculture and Floriculture-related Products
Medicinal and floral plants
Furthermore, Basmati rice is now also in the APEDA Act's Second Schedule. Lastly, APEDA is also in charge of monitoring sugar imports.
What is the online process to obtain APEDA Registration through Consultants in India?
Visit our web portal and consult our APEDA Consultants for free. After understanding the category of your scheduled products, upload the necessary documents.
Our professional team will verify and validate all the documents required for APEDA Registration.
After successful confirmation, you can make the payment through various secure modes.
Our best APEDA Registration Consultants in India will file the application.
At last, once successful verification and approval from the government body we will deliver your APEDA Registration Certification by email.
What are the benefits of APEDA Registration?
Registering under APEDA can be beneficial for businesses in multiple ways.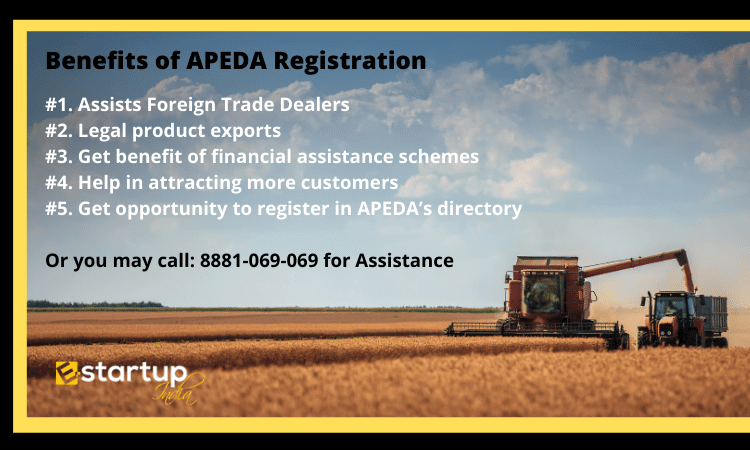 The best benefits that you get right away after registering are as follows.
You get to export scheduled products legally.
APEDA provides various financial assistance schemes to the exporters.
APEDA assists Foreign Trade Dealers in brand promotion through advertising, package creation, database upgrades, and surveys, among other things
You also get an opportunity to register in APEDA's directory. Thus, it allows you to attract more customers without spending too much.
APEDA organizes various meets and training sessions from time to time and that too for free.
APEDA  certificate builds credibility and brand image of your products.
Benefits of APEDA Registration through Consultants in India
The APEDA Registration through Consultants in India provides several benefits. Some of the major benefits that you get while applying for APEDA Registration through us are:
The process becomes hassle-free. Once you complete the prerequisites your certificate will be delivered to you without you having to worry about anything.
Experts can easily understand the resolution to objection if it arises.
You can enquire about other beneficial schemes for your business.
Consultants at e-startupindia can assist you in document preparation saving your valuable time and energy.
You don't need to be present physically, so with the E-Startup Mobile App, you can easily get APEDA Registration and other services at the comfort of your home or office.
Moreover, If you want any other guidance relating to Apeda Registration, please feel free to talk to our business advisors at 8881-069-069.
Download E-Startup Mobile App and Never miss the latest updates narrating to your business.