An ISBN (International Standard Book Number) is a book's identifier, much similar to a social security number. It's a 13-digit number which is suitable worldwide and unique to the book. Also, ISBN method uses a 13-digit number on the information page, and it also practices a bar code and number on the back cover. In this article, we will discuss the Benefits of ISBN and why it is important for the book Publisher and Author.
Know about ISBN 
The International Standard Book Number is a numeric commercial book identifier which is meant to be unique. Generally, the Publishers acquire ISBNs from an affiliate of the International ISBN Agency. Also, An ISBN has allocated to each separate edition and variation of a publication.
ISBNs were 10 digits in the range up to the end of December 2006, but after 1 January 2007, they continually consist of 13 digits. Hence, ISBNs have prepared using a specific mathematical formula and include a check digit to validate the number.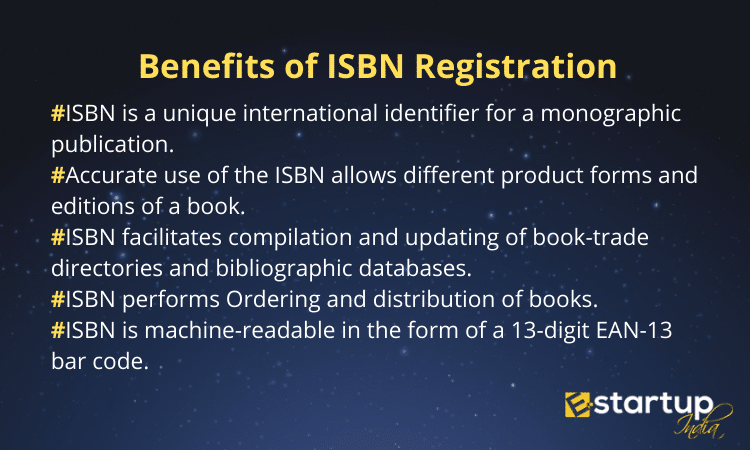 Benefits of ISBN Registration
ISBN is a unique international identifier for a monographic publication
Accurate use of the ISBN allows different product forms and editions of a book
ISBN facilitates compilation and updating of book-trade directories and bibliographic databases
Also, It performs Ordering and distribution of books
ISBN is machine-readable in the form of a 13-digit EAN-13 bar code
Why ISBN important for book Publisher and Author
The ISBN helps customers recognise and order the exact book they require to purchase. Libraries, bookstores, online retailers, distributors, and wholesalers depend on this unique identifier to trace purchases and sales. Further, it will be necessary to apply for an ISBN if you expect to sell to them. Some significant reasons are –
By obtaining an ISBN you will be able to take the required steps to ensure that your book is widely known and to maximise its sales potential.
If you are a publisher or bookseller it is in your interest to use ISBN as it is likely to assist you to sell books.
Also, If you have published a book, then you should contact the respective ISBN agency in each of the countries.
ISBN is important for catalogues of books circulation. You may also list your products in internet retailers such as Amazon, Flipkart also.
If you require any other guidance concerning ISBN Registration, please feel free to contact our business advisors at 8881-069-069.
Download E-Startup Mobile App and never miss the brand-new updates relating to your business.