Over 94% of new firms fail during the first year of operation, according to a recent survey. One of the most prevalent causes is a lack of money. A company's lifeblood is money. However, most of the startups fail to acquire funding due to lack of awareness and right guidance. This article discusses the best and powerful ways to get funding opportunities in 2022.
List of Powerful ways to get Funding in 2022
Crowdfunding
Crowdfunding is a relatively new method of raising capital for start-ups, but it is quickly gaining traction. To put it another way, it's like taking out a loan from many people at once.
An entrepreneur will post a thorough description of his firm on a crowdfunding site. His company goals, plans for profit, how much money is needed and why, and so on will be laid out for the public to see.
If they like the idea, they'll donate. Those who want to donate money will make online pledges with the promise of pre-ordering the goods or making a contribution. Anyone may make a financial contribution to a company they believe in.
Loans from financial institutions
Loans from banks may be the most obvious option for business owners in need of financing. Although lending rules have been harder over time, there are frequently funds set aside specifically for small enterprises, depending on the bank.
In India, you can get a small business loan online that doesn't have strict restrictions. Moreover, you should get MSME Registration for your business if it's eligible.
MSME Registration offers several benefits including Bank Loans without collaterals.
Angel Investment Opportunities
Wealthy individuals, known as "angel investors," put their money and effort into new enterprises with the goal of seeing them succeed.
They receive a tiny ownership stake in the company in exchange for their investment: they own a portion of the company. They do so in the belief that the firm will succeed and their ownership stake in the business will dramatically increase in value.
It is important to note that you must have a unique and creative Pitch Deck handy and designed perfectly to attract angel investors.
Venture Capital Investment
These are professionally managed funds that put their money into businesses with enormous potential. In most cases, they make an equity investment in a company and then sell their shares in the event of an IPO or an acquisition. This are generally known as Venture Capitalists. For example, venture capitalists (VCs) may give knowledge, guidance, and a litmus test for where an organisation is headed, as well as evaluate the business from a sustainable, long-term perspective.
Small enterprises that have moved past the startup stage and are producing revenue may be a good fit for a venture capital investment.
Incubators and accelerators Connections
Incubator and Accelerator programmes are viable funding options for early-stage firms. Many big cities have similar initiatives, which each year help hundreds of new firms get off the ground.
Despite the fact that the two names are often used interchangeably, there are just a few subtle distinctions between them. As a father would to a kid, incubators nurture a firm by offering a safe haven, necessary resources, and a supportive network. When it comes to starting a business, incubators help a company learn to walk, while accelerators help it run and take a great leap forward.
There is a time commitment required of the business owners for these programmes, which typically last 4-8 months.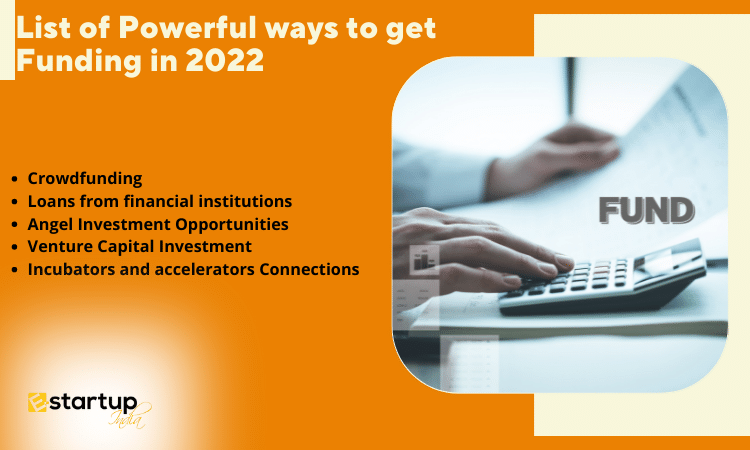 Conclusion
Funding is important for every business. In India, there are plenty of ways to get funding for your startup. However, you need to make sure to find the best one for you and always have the right tools in your toolkit to grab the opportunity.
Moreover, If you want any other guidance relating to Business Plan & Project Report, please feel free to talk to our business advisors at 8881-069-069.
Download E-Startup Mobile App and Never miss the latest updates narrating to your business.