DGFT has issued a notification removed export curbs on N-95 masks, to promote outbound shipments of the product. In this article, we will discuss on DGFT notification for export of N-95 mask
Let's summaries the Notifications issued:-
Notification for Export of N-95 Mask
The All India Mask Manufacturers Association urged the central government to exclude restrictions on the exports of N-95 masks. A notification issued by the Directorate General of Foreign Trade (DGFT) confers the export policy of N-95/FFP-2 masks or its equivalent is amended from restrained to a free category, making all types of masks freely exportable.
Back in August, a monthly export quota of 50 lakh units was fixed for N-95/FFP2 masks or its equivalent for issuance of export licences to suitable applicants. Now the All India Mask Manufacturers Association requested the central government to remove restrictions on the export of N-95 mask.
Also, it is mandatory for obtaining IEC Registration for the businesses of the mask, sanitizer and other medical equipments.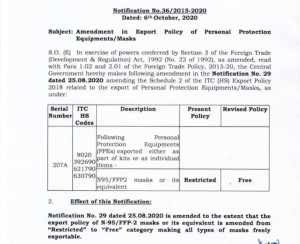 Further Notification by DGFT
There are further points regarding the new DGFT notification on mustard oil. Some of them are –
The government had put restraints on the export of medical equipment like PPE, masks, and gloves to limit a shortage of these items in the country during the coronavirus pandemic.
However, as local production quantity ramped up and the domestic demand was adequately served, manufacturers lobbied the Centre to enable the export of these items to generate additional revenue to counter the decline in the apparel business.
If you need any other guidance concerning IEC Code online, please feel free to contact our business advisors at 8881-069-069.
Download E-Startup Mobile App and never miss the freshest updates relating to your business.