Globally, India is the second-largest producer of fresh fruits and vegetables. Industry professionals and various researchers expect the fruits and vegetables processing industry in India to grow at a CAGR of 7.62% between FY 2018 – FY 2023 and achieve an Rs. 256.4 billion value at the end of FY 2023. Currently, the commercial processing of fruits and vegetables in India is extremely low compared to countries like the Philippines, China, and the United States of America. The unorganized sector faces stiff competition from a large number of players competing for a sizable market share. On the other hand, the organized sector competes within itself to retain valuable market share. In this article, we will discuss the Agriculture Commodities for Export.
Agriculture Commodities For Export
Agriculture contributes roughly 15% to India's GDP and provides a livelihood source to more than 50% of India's population. Apart from domestic consumption, there is an immense potential for exporting agricultural commodities.
The month-on-month exports of essential agricultural commodities from India during September 2020, was Rs. 9,296 crores against Rs. 5,114 crores during September 2019, an increase of approximately 81.8%.
A majority of India's agricultural commodity exports consist of:
Fresh Fruits and Vegetables, including onions, potatoes, tomatoes, cabbage, cauliflower, okra, mangoes, grapes, apples, bananas, and more.
Processed fruits and vegetables such as dried truffles, dried asparagus, dried garlic, dried potatoes, preserved onions, etc.
Different varieties of Basmati Rice and cereal grains such as wheat, oats, barley, etc.
Meat and dairy products such as milk, butter, cream, milk powder, etc.
Confectionary items made from sugar and jaggery.
Bakery items such as biscuits, bread, cornflakes, wafers, etc.
Other miscellaneous products such as honey, chutneys, papads, pickles, etc.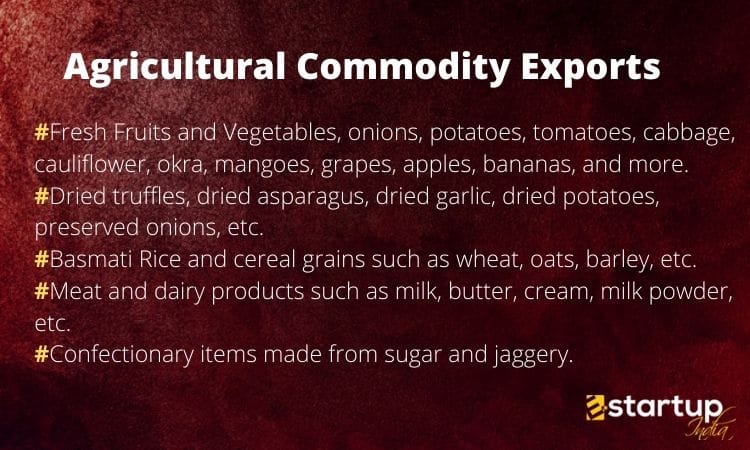 Export of Fresh Fruits and Vegetables
Among vegetable producers, India ranks first in ginger and okra production and second in vegetables such as potatoes, onions, cauliflower, brinjals, etc. Among fruit producers, India ranks first in the production of bananas, papayas, and mangoes.
The vast production base provides India with tremendous opportunities for exporting fresh fruits and vegetables. During 2019-20, India's fruits and vegetable exports amounted to Rs. 9,182.88 crores, of which the export of fruits amounted to 4,832.81 cores, and the export of vegetables was worth Rs. 4,350.13 crores.
Also, fruits such as mangoes, grapes, bananas constitute a high percentage of fruit exports while onions, potatoes, tomatoes contribute the most to vegetable exports.
Some of the major destinations for Indian fruits and vegetables include Nepal, Malaysia, the UAE, UK, Srilanka, Oman, and Qatar, where the climate is not diverse and conducive.
Agriculture Commodity Exports and APEDA
APEDA Registration is mandatory for exporters of scheduled, processed agricultural products. Exporters can avail financial assistance, participate in various training programs and gain useful information on how to develop their export business and build their brand.
Moreover, you require any kind of guidance related to the APEDA Registration, please feel free to contact our business advisors at 8881-069-069.
Download E-Startup Mobile App and Never miss the latest updates reciting to your business.