FSSAI issued a notification about a refund of erroneous FSSAI Registration fee, which has issued on 18 August 2020 as Food Safety and Standard Authority of India has launched easy SOP (Standard Operating Procedure) to claim a refund of FSSAI Registration fees paid. Let's understand in detail:
A Big Relief to FBO's who applied for FSSAI License
The Food Safety and Standards Authority of India (FSSAI) has announced the notification on Standard Operating Procedures for Food Business Operators applying and processing of refund of incorrect or accidental payments made to FSSAI Account while applying FSSAI license or FSSAI registration online.
Before learning the new Standard Operating Procedure issued, you need to understand the past procedure where FBO facing issues while applying for FSSAI license.
There have been many cases reported in the past wherein a Food Business Operator has paid the FSSAI fees for FSSAI Registration more than once erroneously through the payment mode available in FSSAI's online licensing and registration portal (FLRS/FoSCoS). 
There are several issues such as – 
Applicants made double payment accidentally

Payment not processed due to low or poor network.

Paid fee for FSSAI registration instead of paying for FSSAI License.

Also, the fee paid successfully for the FSSAI Registration, but the FSSAI license certificate has not been received.
Now, FSSAI has issued on FSSAI notification about the refund of erroneous FSSAI Registration Standard Operating Procedure (SOP) as given below for applying and processing of refunds of erroneous/ inadvertent payment credited into the FSSAI Account in respect of license/registration fee. Following are the FSSAI Refund procedure –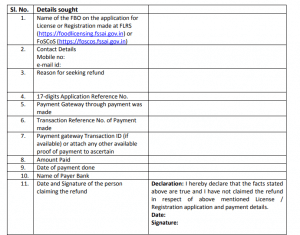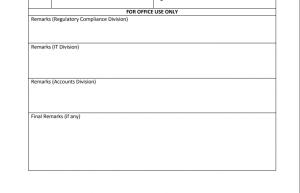 Standard Operating Procedure for FSSAi Registration fee refunds
The refund request with form, reference number and payment transaction details should be made within one year of the payment made through the FSSAI's online licensing and registration portal.

The request shall be sent to FSSAI HQ and shall forward the case to the IT Division for verification of the claim.

After verification of online payment by the IT Division, FSSAI shall proceed with the refund request. 

Now, the refund request shall be processed by the RCD as per Schedule 3 of the Food Safety and StandardsRegulations 2011.

FSSAI fee refunds of less than Rs.100 may not be processed.

'RazorPay' a payment gateway shall be used for any specific payment/refund.
Note – The fee paid by the FSSAI Registration applicant for successfully submitted form for FSSAI license/registration shall not be refunded under any circumstances.
In case, if you need any further guidance as regards the FSSAI registration, please feel free to contact our business advisors at 8881-069-069.
Also, Download E-Startup Mobile App, and never miss the latest updates relating to your business.