The maintenance of a safe food standards system has always been the top priority for the Indian government. To ensure the safety of the public and health, they have introduced FSSAI registration and License for every kind of food-related business operator in India. A FSSAI registration, also known as an FSSAI License is legal and mandatory compliance which ensures the food safety of all products. If you are into the essential food products business, you will also need to apply for FSSAI Registration Online.
What are Essential Food Products?
India's government adopted The Essential Commodities Act in 1955. In this law, the government of India is empowered to regulate the manufacturing, distribution and supply of items that are classified as "essential". The government can decide on the maximum retail price (MRP) for these items in order to ensure that consumers obtain the goods at reasonable costs.
The essential food items include fruits, vegetables, cooking oils, eggs, dairy products, cereals, eggs, and other foods that are edible. Furthermore, The production, supply, and distribution of these essential foods must be governed by the regulations of the Food Safety Act. You can also define essential products as food items of our daily use that are widely consumed in India.
Importance of FSSAI Registration for Essential Food Products
A FSSAI Registration or License is a legally binding requirement that ensures the food safety of products. Food safety certificates are issued by the food authority in India. The acquisition of an FSSAI license is required prior to beginning any food-related business in India. All Traders, Suppliers, Distributors, Retailers, Transporters, Manufacture Restaurants, and food business operators operating in the food industry are required to have a 14-digit FSSAI Registration Code.
Distribution, Supply, Retail Transport of foods such as vegetables Fruits, groceries and Milk is a crucial daily process within Indian marketplaces for foods. In order to carry out the above mentioned activities, all food business operators have to register with the food safety authorities of India and have an active FSSAI registration or license.
The issuance of a license gives yourfood business legal advantages, increase in reputation,  hygiene, quality and the safety of food, raises awareness among consumers, and aids in the expansion of business. Additionally, it is simple to get funding from investors if an FBO has an FSSAI registration. FSSAI also provides several schemes for FBOs which benefit them significantly in their business.You can learn more at: All about the Food Safety Mitra Scheme for FSSAI License FBO
Finally, the FSSAI logo that is displayed on food products guarantees the high-quality of the food served to customers. A FSSAI registration number that is displayed on the premises of the food outlet ensures that the food establishment is in compliance with standards of hygiene and quality.
What is the procedure to get a FSSAI Registration for Essential Products?
 Evaluate Annual Turnover to assess requirement of Basic Registration/ State License / Central License

 Arrange Documents (Photo, ID Proof, Address Proof)

Submit FSSAI Form A

Submit FSSAI License Fee

Check FSSAI Application from time to time for clarification.

FSSAI Certificate issued within 15 – 45 days.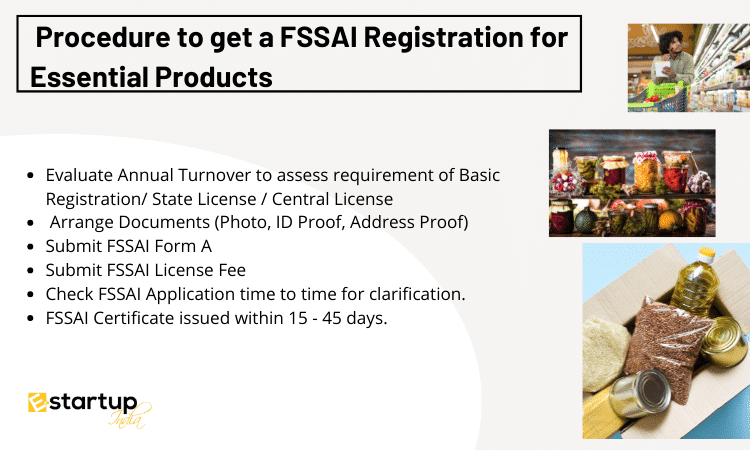 You can also contact our FSSAI Registration Experts at – 8881-069-069 to get FSSAI Registration or FSSAI License. You will get accurate information, timely delivery and FSSAI Registration hassle-free through our experienced professionals.
What information is listed within the certificate of registration issued by FSSAI?
FSSAI registration certificate contains basic details such as name of the applicant, address of the FBO and the address of the premises for food businesses, the type of business, and the validity period.