The Government has exempt GST on PPE kits, and this has both negative & positive sides.
As we all know the Coronavirus pandemic is unceasingly growing and no vaccine has been developed as yet. One of the essential commodities during this time is the PPE kit. The government has exempt GST on PPE kits. However, the GST Registration is still compulsory for the manufacturers of PPE kits. 
If you are about to order your PPE kit online, you must also know about the PPE kit and how the prices of PPE kits are decided by the government.
What is a PPE kit?
Personal Protective Equipment or also known as PPE kit is full-fledged equipment that can be worn to stop the spread of Coronavirus infection. The PPE kits are generally disposable and nonwoven and consist of:-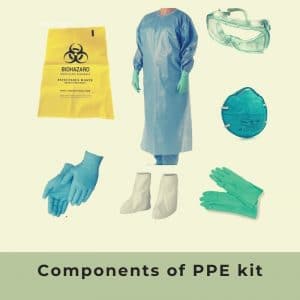 Surgical gloves, 

Surgical mask, and 

Protective gown with an apron

Protective goggles, 

face-shield, 

head-gear, and 

shoe cover.
Application of PPE kits
These days the PPE kits are widely by the corona-fighters of India, i.e. doctor and medical staff. Besides, these are also used to protect the sanitation staff in departments like Waste Management, funerals, and Community Care Tasks. 
Nowadays, PPE kits have become an essential commodity due to the COVID-19 outbreak. On these grounds, the government has exempt GST on PPE kits.
Also, refer to the Health Ministry Guidelines on the PPE kits.
Is GST exempt on PPE kits: Boon or Bane?
Here we must analyze the decision made by our government regarding GST exemption for PPE products:-
Recently the Govt. of India decided to lift the

GST

(Goods and Service Tax charged by state and center govt on various products and services)

on PPE suits

. The motive behind this decision is to increase the supply of

PPE kits

in the market.

Both

SGST

(State government tax on goods and services)+

CGST

( Centre government Tax on goods and services) are collectively chargeable on PPE and it ranges from  5% to 18%. 
Let us now understand the pros and cons of this decision:
Pros: The GST exemption is beneficial to the general public as- 
The intention is to make easy availability of PPE kits to doctors, nurses, and other essential warriors.

These kits will also help in boosting morale and giving them a sense of security to perform their duties without crumbling.
Cons: Now, this all seems beneficial but there's another side to it too. Let's look into the cons of this decision :
The manufacturer has to bear the tax on raw materials, Machines, Transportation, etc.

Despite India being the second-largest producer of

PPE Kit,

Exportation won't be possible under these financial conditions. 
Let us now understand how the pricing of PPE kits is done.
Pricing of PPE kit
Here are the Price Charts on the basis of Input and Output costs, and GST Rate:-
I. Price of input
| | | | | |
| --- | --- | --- | --- | --- |
| S. No | Items | Cost (₹) | GST Rate | GST (₹) |
| 1 | Fabric | 300 | 5% | 15 |
| 2 | Other Inputs, Capital Goods, Input Services | 700 | 18% | 126 |
| 3 | Total inputs(1+2) | 1000 | Total ITC | 141(15+126) |
II. Price of Output
S.No

Items
Cost (₹)
GST Rate

GST (₹)

1

PPE

1175

12%

141

2

Net

GST

on output (NET of ITC)

=(Output Tax -Input Tax)  = 0

(141 -141)

0

3

Net Price to Customer (Incl.

GST

)

1175 + 141

–

1316
We can conclude that while the decision of the government is to reduce the prices and increase the supply of PPE kits. It can turn out to be a failure, as the manufacturers of PPE kits will not be able to maintain profits. However, the manufacturers of PP kits must get a GST registration. 
Moreover, The importers will have an upper edge in the market. As they are also exempted from custom duty as well as health Cess on these PPE Kits. So, the Indian Government may need to find other solutions as well as improvise this decision quickly. Apart from that, the manufacturers & suppliers of PPE kit having GeM registration have immense of supplying their products to healthcare departments on Government e-marketplace. 
Know more about the scope of PPE kit suppliers on Government e-marketplace.
If you need any sort of guidance or assistance about the GST registration process, please feel free to contact our business advisors at 8881-069-069.
Download E-Startup Mobile App and Never miss the latest updates relating to your business.