The Agricultural and Processed Food Products Export Development Authority (APEDA) is a government agency founded in 1985 to promote the export of scheduled products. Funding, information, and instructions are provided to help with the development of scheduled goods Schedule products are those that are defined by the APEDA Act, and exporters of them must register with APEDA. This article will guide you through the process to check APEDA List of Exporters in India.
APEDA Registration way to find exporters in India
Where can you locate Indian buyers or suppliers in 2022? This is a common concern for new entrants to the Indian market, especially those importing or exporting for the first time.
You can use both paid and free services to learn more about Indian enterprises that might have interest in purchasing or selling your products,
One of the best ways to find a list of exporters in India is through APEDA Registration. APEDA Registration online might also be beneficial for your business in several other ways.
Advantages of APEDA Registration
Under the APEDA, exporters can take advantage of a variety of financial aid programs.
APEDA offers exporters laws, regulations, and recommendations for a variety of items, depending on the destination country.
Companies that have registered their trademarks are able to promote their products through advertising (including billboards), package development (including new designs), database updates, surveys, and so on.
APEDA-registered members have the chance to engage in training programs arranged and hosted by APEDA for several scheduled goods, therefore bringing continual and major positive changes to their business.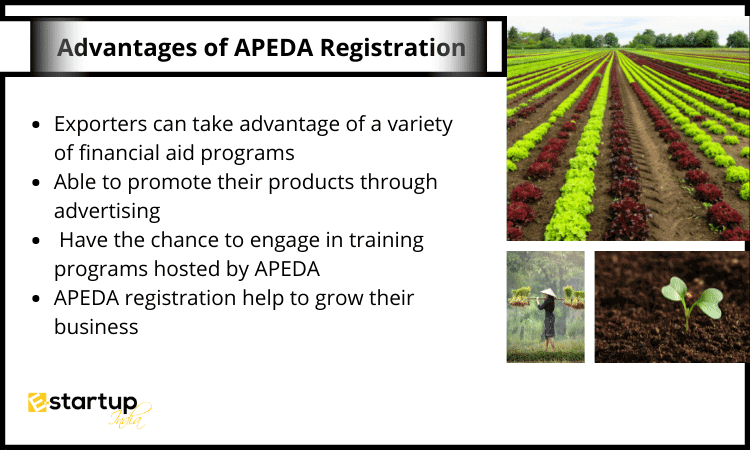 Advertising, package creation, database updates, and surveys help exporters promote their brands.
Advancing exporters' knowledge of diverse products and markets.
Members of APEDA can engage in APEDA-sponsored training programs for various planned goods, which will help them grow their business.
Complete list of Products under APEDA 
Within the APEDA Act, promoting and developing exports of the following items falls under the purview of APEDA, which is charged with overseeing this function. The list of Products under APEDA is as follows:
Meat and meat products
Fruits, vegetables, and their products
Poultry and poultry products
Dairy products
Honey, jaggery, and sugar products
Confectionery, biscuits, and bakery products
Cocoa and its products, including chocolates of every kind.
Groundnuts, peanuts, and walnuts
Cereal and cereal products
Pickles, papads, and chutneys
Alcoholic and non-alcoholic beverages
Guar gum
Herbal and medicinal plants
Floriculture and floriculture products
Stepwise Procedure to check the list of  APEDA exporters in India
If you're looking to find Indian importers or exporters, government sources like the Ministry of Commerce & Industry and APEDA Portal are the greatest and most trusted possibilities.
To check the list of APEDA Exporters in India, you have to only follow a single step i.e.
Visit – https://agriexchange.apeda.gov.in/ExportersDirectory/exporters_list.aspx
Here, you can search for exporters by clicking on an alphabet with which the name of the exporter begins.
Other ways to Find buyers/exporters in India
As the name implies, the FIEO GlobalLinker facilitates the exchange of goods and services between sellers and purchasers. A digital catalog that may be viewed by buyers all over the world is made available to exporters via online retailers. Additionally, it makes use of artificial intelligence to locate companies that could be interested in the exports that you make.
You can attend a trade show in the nation you want to explore. These trade fairs draw hundreds of thousands of customers and dealers from all over the world every single year. APEDA also organizes virtual trade fairs and you can also participate in APEDA Trade Fairs to check the APEDA List of exporters in India.
The Indian government maintains a number of agencies dedicated to promoting the country's products abroad. You can check their portals or call on helpline numbers.
Moreover, If you want any other guidance relating to Apeda Registration, please feel free to talk to our business advisors at 8881-069-069.
Download E-Startup Mobile App and Never miss the latest updates narrating to your business.