One can not conduct their import and export business legally in India without having an IEC Certificate. Hence, the Import Export Code offers several advantages. You must also note that IEC Code or IEC Certificate is mandatory for every exporter except those who have an exemption under Foreign Trade Policy. As a result, it becomes important to know how to download IEC Certificate Online. In this article, we will understand the complete stepwise procedure of how to download the IEC Certificate Online. We will also understand the IEC Code and its advantages.
What is the Import Export Code?
The DGFT(Directorate General of Foreign Trade) provides the Import Export Code(IEC). The DGFT provides it in the form of a certificate. This IEC Certificate has a 10-digit unique code assigned to your business.
As a result, the DGFT uses this enrollment number or IEC Code to maintain the database. The IEC Code also allows the DGFT to implement trade policies, conduct research, and regulate exports and imports.
The registration process is available online and you can consult our business advisors to understand the complete procedure of the online IEC Code application process.
Stepwise Procedure to download IEC Certificate Online
Go to the DGFT's Official website and log in.
Select the "services" page.
In the drop-down menu that appears, click on the "IEC Profile Management."
Scroll down till the option "My IEC" appears. Click on it and the new window will pop up.
In the new window or the web page, click on the "Print IEC" button after choosing the "Manage IEC" option.
Clicking on the "Print IEC" option will allow you to download the certificate in a PDF Format.
Thus, you can follow the above steps to download IEC Certificate Online. However, it's obvious that you can download IEC Certificate Online after successful IEC Code Registration. If your IEC Code is not valid or is not still successfully approved, you won't be able to download it.
Know the Benefits of the Import export code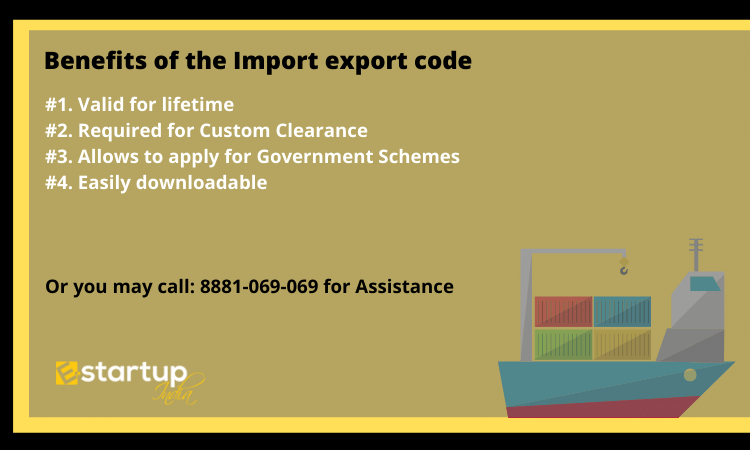 You can easily download it and share it with the concerned parties.
IEC Certificate or Importer Exporter Code allows you to apply for Government Schemes.
IEC Code is valid for lifetime so you don't need to renew it.
Similarly, IEC Code is important and is the foremost requirement for Custom Clearance.
IEC Code is a document required for AD Code Registration.
If you want to start an import-export spice business in India, you will need to apply for Spice Board Registration. Here again, you will need to provide Import Export Code as a mandatory document requirement.
The document requirement is minimal for IEC Code Registration.
Document required for IEC Code Registration in India
Passport Size Photograph.
PAN Card.
Bank Account Details.
Pre Printed Cancel Cheque.
Certificate from Bank.
Address Proof.
Conclusion
If you are a newcomer to the EXIM industry, keep in mind that IEC places the highest priority on legal compliance. Without this authorization, exporters and importers in India would be unable to do EXIM operations lawfully. This IEC Code or IEC Certificate Online will serve you for the rest of your life, so you won't have to worry about renewing it. Please feel free to contact us if you have any questions about obtaining an original copy of the Import-Export Certificate.
Moreover, If you need any other guidance concerning the IEC Code, please feel free to contact our business advisors at 8881-069-069.
Download E-Startup Mobile App and never miss the freshest updates relating to your business.