Barcodes are considered as the machine-readable symbols in the form of numbers and parallel lines used entirely to identify and track products. Also, it plays a significant role in supply chains, allowing retailers, manufacturers, and transport providers to simply recognize and track products as they move through the supply chain. In this article, we look at How to Get Barcode in India.
What is Barcode?
A barcode is a regulated code denoted by a series of vertical black & white bars of diverse widths followed with a 12 or 13 digit numbers. A laser barcode scanner can comprise the data inside the bars and the digital code.
Also, it brings adequate for retailers to determine your company & product data through searching online for the barcode number, or with a barcode inspecting app.
Barcode in India
GS1 is a not-for-profit, global entity that regulates and standardizes bar codes across India. GS1 sets standards and maintains the barcode standard utilised by manufacturers and suppliers.
Around two million companies across 20 industries such as Retail & Consumer Packaged Goods, Food, Healthcare, Transport & Logistics, Government etc.
Types of Barcodes in India
The different administration obliges various barcode registrations with the capability to hold several data. Therefore, to several requirements, GS1 sets standards for use with different sorts of barcode symbols. GS1 barcodes have summarised into the following categories: UPCA-2 and EAN-13
How to Get Barcode in India
These are the significant steps regarding how to get barcode in India.
GS1 India registration form duly filled and signed along with the product classification sheet duly highlighting the product sections has manufactured.
Request letter on letterhead for allocation of GS1 Company prefix number.
Copy of balance sheet as on 31st March 2015 or latest
PAN card copy of Proprietor – in case of Proprietorship firm or PAN card copy of the applicant company in other cases
Verification of the status of the Applicant Company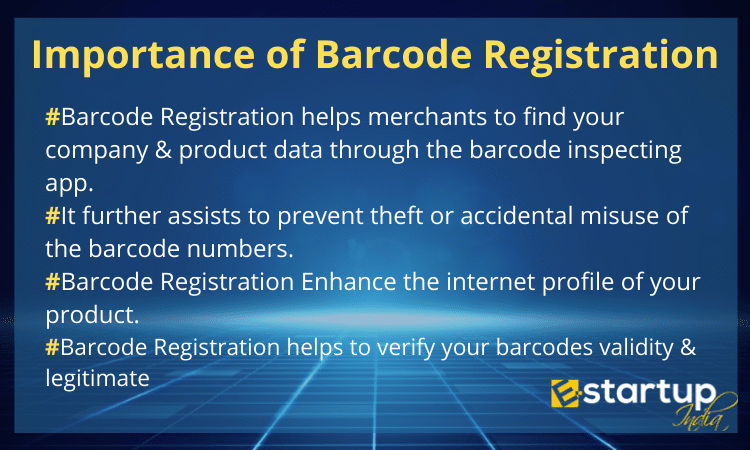 Importance of Barcode Registration 
Barcode Registration helps merchants to find your company & product data through the barcode inspecting app.
It further assists to prevent theft or accidental misuse of the barcode numbers.
Barcode Registration Enhance the internet profile of your product
Barcode Registration helps to verify your barcodes validity & legitimate
In case you need any further guidance with regards to Barcode Registration, please feel free to contact us at 8881-069-069.
Now you can also Download E-Startup Mobile App and Never Ignore the latest freshest relating to your business.