Running an Ola cab business can be beneficial due to its popularity, ease of use, and flexible working hours. However, starting a business on Ola cabs can be difficult due to the registration process and strict regulations imposed by Ola. It requires careful planning, investment, and effort to establish a profitable and sustainable business on the Ola platform. Let's understand the process to register in Ola Cabs to start a Car Cab Business.
Understanding Different Business Models in the Ola Platform
Option 1: Owner-Driver
As an owner-driver, you own a car and drive it yourself while also attaching it to the Ola platform. This allows you to earn income by offering rides to Ola customers.
Option 2: Commercial Driver under Partner
If you don't own a car but want to drive for Ola, you can become a commercial driver under a partner. This means that you will drive a vehicle owned by an Ola non-driving partner.
Depending on your city, you may also have the option to drive a commercial auto-rickshaw or motorbike/scooter.
Option 3: Non-Driving Partner
As a non-driving partner, you own a car that is attached to the Ola platform, but you don't drive it yourself.
Instead, you manage at least one driver who operates the vehicle and provides rides to Ola customers.
This option allows you to earn income from your car without personally driving it. You can have company formation and successfully grow your business on Ola using this way.
Steps to Attach Your Car with Ola Cabs for Commercial Use
To attach your car with Ola Cabs for commercial use, you must follow certain steps. Firstly, ensure that your car is either used or brand new and in good condition. You can hire a driver with a commercial license or drive the car yourself.
Next, you should contact the nearest regional office or the main branch for new registration of your car. Submit all the required documents to the company for verification. The staff at the regional office will inspect the condition of your car.
To start operating your Ola Cab, you will need a smartphone with the Ola app installed on it. The staff will guide you on the guidelines and offers available.
Finally, open a current bank account and provide the necessary documents. Once you have completed all these steps, you are ready to start running your Ola Cab in your city.
Required Documents for Ola Cab Registration
To register your car with Ola Cabs, you will need to provide certain documents. These documents can be divided into three categories: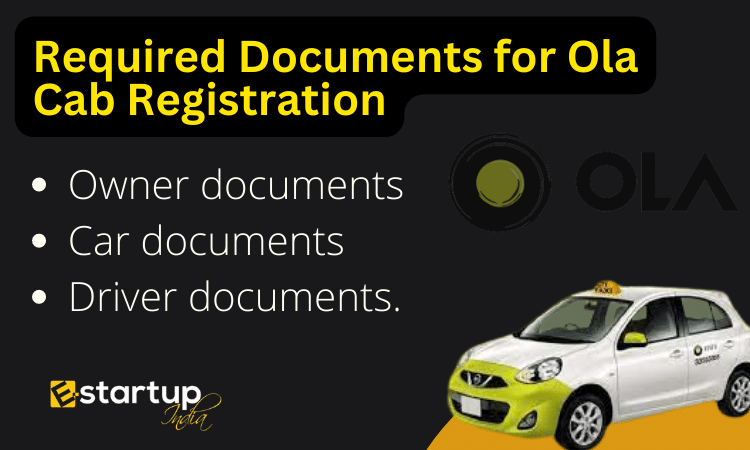 Owner Documents for Ola Cab Registration
Owner documents include a copy of the owner's PAN card and Aadhar card, as well as a cancel cheque or passbook for account verification. In some cities, a current bank account is also required for registration. Additionally, in some states, a commercial gumasta license or trade license is necessary.
Know more: All about Gumasta License online
Car Documents for Ola Cab Registration
Car documents include a copy of the vehicle's RC (registration certificate), permit, and insurance. These documents are essential for ensuring the safety and legality of the vehicle.
Driver Documents for Ola Cab Registration
Finally, driver documents include a valid driving license, Aadhar card, and address proof. These documents are required to verify the identity and eligibility of the driver. By providing all of these documents, you can ensure a smooth and successful registration process for your Ola Cab.
Faqs regarding Ola Cab Registration
Can I Drive for Ola and Another Cab Service Simultaneously?
Yes, you are allowed to drive for Ola and another cab service at the same time.
Are There Fixed Work Hours or Timings for Ola Cab Drivers?
No, there are no fixed work hours or timings for Ola cab drivers. You can work as per your schedule and convenience.
What Are the Future Plans and Services of Ola?
Apart from its existing range of cab booking services, Ola is expanding its operations to include Ola Bike, Ola Auto, and Ola Share. It also plans to launch its line of electric scooters under its subsidiary 'Ola Electric Mobility.'
Is It Profitable to Put My Car in Ola?
Yes, it can be profitable to register your car with Ola. You can earn a decent income on monthly basis.
What Percentage Does Ola Take as Commission?
Ola takes a commission of 20-25% from the total earnings.
moreover, If you want any other guidance relating to company formation online, please feel free to talk to our business advisors at 8881-069-069.
Download E-Startup Mobile App and Never miss the latest updates narrating to your business.