Sad news for all the wine-lovers! Liquor in Delhi to become costlier from 5th May as the Delhi Government has imposed a 70% 'Special Corona Cess', i.e. a surcharge over and above the cost of the alcoholic beverages.
In the wake of the Novel Coronavirus disease or COVID-19, the government had further extended the Lockdown till 17th May 2020, under the Disaster Management Act, 2005. The sale of alcoholic beverages is permitted during lockdown 3.0, but with a Special Corona Cess @ 70%.
Why 70% of Special Corona Cess is being levied on alcohol? 
The Delhi Government has charged Special Corona Cess @ 70% on alcohol, considering the violation of social distancing norms at alcohol shops.
The Ministry of Home Affairs had issued certain guidelines for the businesses allowed during lockdown 3.0.
The MHA had allowed running of some non-essential standalone shops ( located in neighborhoods) till 17th May.
This rule allowed several alcohol shops to open in all 3 zones – Red, Green & Orange zone till 7 pm.
During day 1 of lockdown 3.0,  there were noticed long unending queues of customers outside the alcohol shops. People were seen shamelessly violating social distancing norms enforced to stop the spread while lockdown.
A large crowd outside these liquor stores could cause the failure of the lockdown measures and spread of coronavirus. This could even impact in COVID-19 entering the 3rd Stage of Community Spread.
Hence, the Delhi Government imposed a Special Corona Cess @ 70% on alcohol, with a view to controlling the crowd outside the liquor shops, and to ensure proper implementation of the social distancing norms.
Have a look at the notification given below-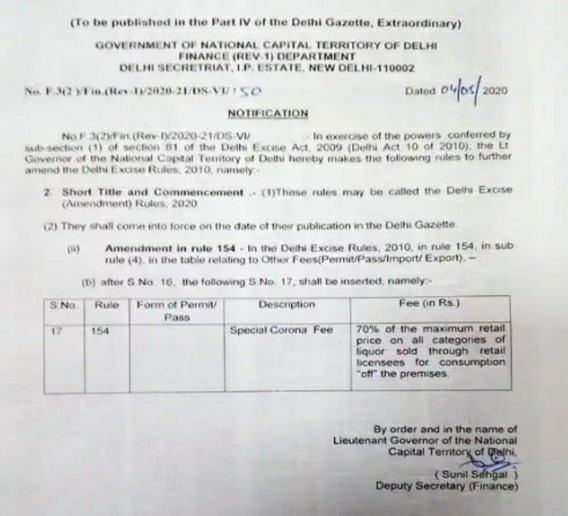 How much would liquor cost now?
After the introduction of Special Corona Cess, now a bottle of liquor will cost you as given below-
Suppose, Price of a bottle of liquor= INR 1,000/-
Add:- 70% Special Corona Cess     = INR   700/-
Cost of the liquor bottle                 = INR 1,700/-
Very importantly, 20% VAT is applicable in Delhi to the liquor. GST is not applicable. However, the GST registration is mandatory for the dealer of liquor if his annual turnover is above INR 40 lakhs.
Download E-Startup Mobile App and Never miss the latest updates relating to your business.