Investors from all around the world are flocking to India, which has become a global hotspot for new businesses. Micro, small and medium businesses (MSMEs) have played a major role in India's economic expansion. More than 40 percent of the nation's GDP comes from the MSME sector, which is a major source of employment. In this article, you will understand all about Mudra Loan for MSME Business.
In India, small and medium-sized enterprises (SMEs) are the driving force behind the country's economic growth. These businesses have a big impact on the growth of the country since they are always innovating.
What is Mudra Loan?
Banks and non-bank financial institutions participate in the Micro Units Development and Refinance Agency (MUDRA) Loan Scheme, also known as the Pradhan Mantri Mudra Yojana or Mudra Loan under PMMY.
eMudra Loan is another common name for this program.
Shishu, Kishor, and Tarun are the three financing options for Mudra Loan.
With repayment lengths ranging from 12 months to 5 years and variable EMIs accessible from financial institutions, loans under the Mudra Loan are collateral/security-free loans offered by financial institutions.
You can apply for a Mudra Loan at any commercial bank, regional rural bank, community bank, microfinance institution, or the nonbank financial institution (NBFI).
What is Mudra Loan Eligibility? 
To be eligible for the Mudra Loan, you must meet all of the requirements. The following are the Mudra Loan qualifying requirements.
In order to apply, you must be at least eighteen (18).
The applicant must be under the age of 65 in order to be eligible for this program.
In order to be eligible for a Mudra Loan, a business must be either an existing MSME or a newly registered MSME.
In a mudra loan, you don't need to provide any collateral or any other security fees or assets. You only need to have MSME Registration or Udyam Registration and Business Plan & Project Report in most cases.
Individuals seeking a Mudra Loan must fill out applications with public and private sector banks as well as rural and regional banks and microfinance institutions.
Anyone running a small business can apply for a mudra loan. In addition, Mudra yojana loans can only be obtained in three distinct ways under the scheme's terms.
Mudra Loan Account is required prior to obtaining a Mudra Loan Debit Card.
To get the Business Loan or Mudra Loan for MSME Business, you need to provide certain documents.
Types of Mudra Loan for MSME Business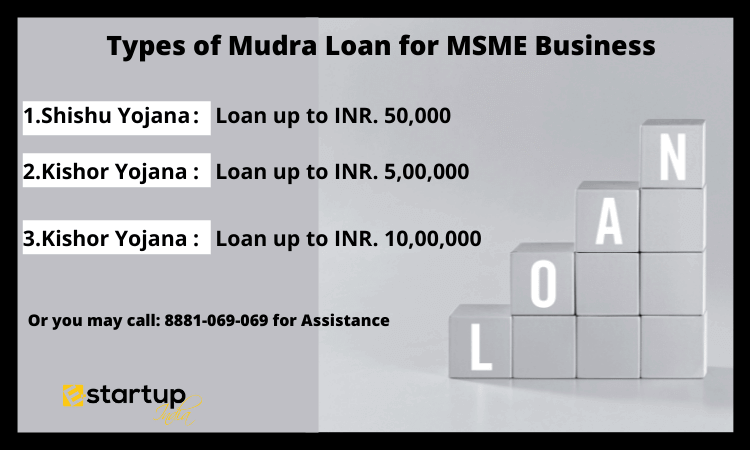 Shishu, Kishor, and Tarun are the three kinds of the Mudra loan. In terms of the micro company's growth and financial needs, these are categorized. Once the loan is granted, the money can be used for financial needs, wages, large extra expenses, and so on.  The types of Mudra Loan for MSME Business are as follows.
Shishu Yojana
This is the best option for small business owners because they can quickly apply for up to Rs. 50,000. Business ventures with modest capital requirements might benefit greatly from the Shishu Yojana Mudra loan for business.
Applicants for this category must submit specific information about their business strategies and the types and concentrations of machinery they propose to acquire in order to be considered. Contact information for a machinery supplier may also be required. Loans are more likely to be approved if this information is given.
Kishor Yojana 
If you have an established business and are looking to grow it.  Loans are available from Rs. 50,000 to Rs. 5 lakhs for applicants.
To be qualified to apply for Kishor, candidates must submit an application form and the appropriate documents to establish the legitimacy and existence of their business.
Some of the documents that you can use to show your business are GST Registration, ITR Filing, Private Limited Company Registration Documents, or PAN, TAN of Company, etc.
Tarun Yojana
Loans from Tarun Mudra Loan for MSME Business have the highest loan amounts available. Similar to other types of Mudra Loans, it offers funds ranging from Rs. 5 lakhs to Rs. 10 lakhs with terms varying from 3 to 5 years.
These sums can be used by existing small businesses who are trying to develop and grow or emerging businesses that require a large amount of start-up or operating capital. If you meet the criteria, you may be eligible for a loan of up to Rs 10 lakhs.
Besides, you require any kind of guidance related to the MSME Registration, Small Business Loan, Mudra Loan & Project Report, please feel free to contact our business advisors at 8881-069-069.
Download E-Startup Mobile App and Never miss the latest updates reciting to your business.