Bakery is one of the fastest-growing food businesses in India. The reasons are simple. Homemade Bakery business products are delicious, attractively presented, and reasonably priced when compared with the commercial bakery products available in the market. In this article, we have mentioned a few things to keep in mind when starting a bakery business in India.
Licenses Required for opening a Home-made Bakery business
If you're thinking of starting a homemade bakery business, you'll need to obtain a health license from your local government. This is typically a simple process, but it's important to do so you can operate legally.
Health License: Your local health department will likely be the agency responsible for issuing health licenses for your bakery business. You'll need to apply and pay a fee, and then an inspector will come to your home to ensure that it meets all the necessary health and safety standards.
FSSAI License: Homemade bakery businesses also require you to obtain a food license from the Food Safety and Standards Authority of India (FSSAI). FSSAI registration for your homemade bakery business is necessary in order to ensure that the food products manufactured by the bakery are safe for consumption.
GST Registration: GST registration is a mandatory tax registration if you are an e-commerce seller. If you plan to sell homemade bakery products online, you must get GST Registration and do GST Return Filing in order to be compliant with laws. GST Registration is also beneficial to collaborate with Multi National Companies as they prefer to work with registered businesses only. MSME Registration: MSME Registration or Udyam Registration is not mandatory registration. However, it is a beneficial scheme and homemade businesses must apply for it. It is mandatory to have MSME Registration in order to claim the benefits from the government schemes and other financial institutions.
How to Select Location for Homemade bakery business?
When deciding on a location for your homemade bakery business, there are several factors to consider. The first is foot traffic. You want to be sure that your bakery is in a high-traffic area so that potential customers will see it and be tempted to come in for a treat. Another important factor is competition. You don't want to be too close to another bakery, as this could cut into your potential business. However, you also don't want to be too far away from other bakeries, as this could make it difficult for customers to find you. . By taking all these factors into consideration, you will be able to find the perfect location for your homemade bakery business.
Investing in some quality baking equipment
One of the most important things in a homemade bakery business you'll need to invest in is equipment. Even if you're only planning to bake on a small scale, you'll need some essential equipment to get started, including an oven, baking tins, cooling racks, and a mixer.
Of course, the type and quality of equipment you'll need will vary depending on the size and scope of your business. If you're only planning to bake a few items for friends and family, you may be able to get by with a more basic set of equipment. But if you want to grow your business and sell your baked goods to the public, you'll need to invest in higher-quality, more durable equipment that can handle higher volumes. You can apply for a business loan if you don't have enough capital to get the larger equipment.
Marketing and Advertising
Finally, you will need to promote your business through marketing and advertising. Advertising for a homemade bakery business in India can be a challenge due to the competition from large, well-established businesses. However, there are many ways in which you can effectively market a Homemade bakery business.
Identification of your target audience can be done by surveying potential customers to determine what type of baked goods they are most interested in. Next, develop a marketing strategy that resonates with the target audience. This can be done by creating eye-catching flyers and posters, and by distributing them in areas where potential customers are likely to see them. Additionally, consider using social media to reach a wider audience. Creating a strong online presence through Website Development will help to attract new customers and to build brand awareness.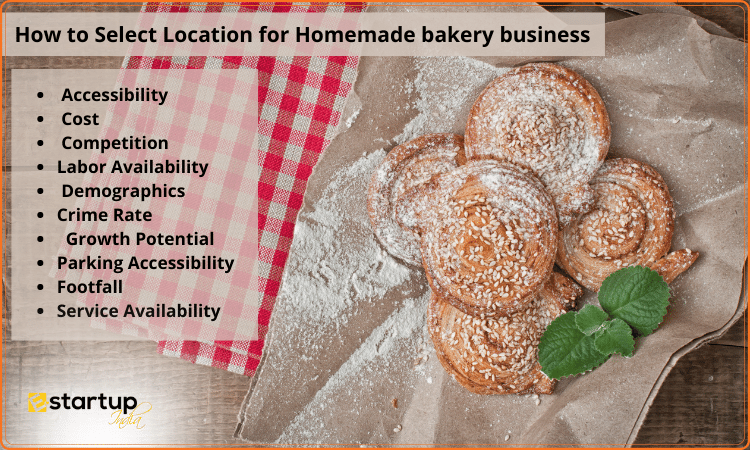 Conclusion:
Today housewives are doing their business in their home kitchen to generate income for their families. If you wish to start homemade bakery business in India, make sure to get the necessary guidance so that it's legal and beneficial for you in the long run.
Moreover, If you want any other guidance relating to Business Plan Project Report, please feel free to talk to our business advisors at 8881-069-069.
Download E-Startup Mobile App and Never miss the latest updates narrating to your business.