The FSSAI is a body that provides certification to the food products ensuring the quality of food.  The certificate assures that the food products are safe to consume. The FSSAI registration is applicable to manufacturers, distributors, retailers, and the organizations handling the food products. It is also essential for sweet manufacturers to ensure purity and non-adulteration of the sweets. Hence, you will learn about the important information regarding FSSAI Registration for Sweet Manufacturers.
Types of Fssai registration for manufacturers are:
    Basic FSSAI registration for petty manufacturers.
    State FSSAI registration whose turnover is reasonable but not too high.
    Central FSSAI registration for manufacturers with high turnover.
Eligibility of FSSAI Registration for Sweet Manufactures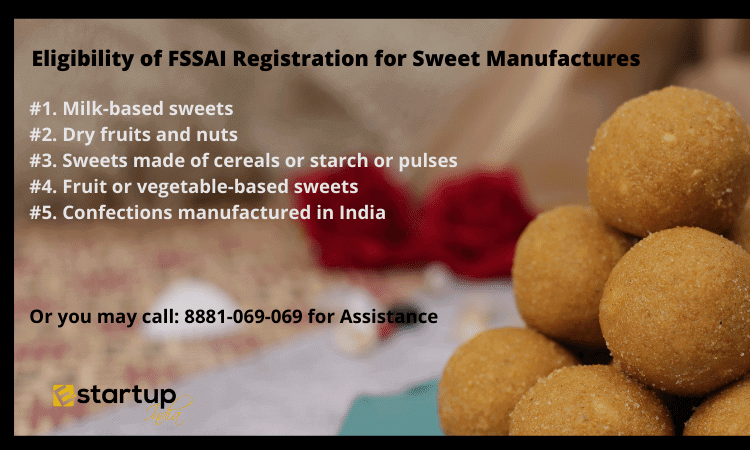 The sweet manufacturers can apply for state or central licenses. The sweets that are eligible for FSSAI registration are:
Milk-based sweets
Dry fruits and nuts
Sweets made of cereals or starch or pulses
Fruit or vegetable-based sweets
Confections manufactured in India
Procedure for FSSAI registration for Sweet manufacturers
Firstly, Decide the category of the FSSAI Registration you need to apply from  FSSAI Criteria or understand the FSSAI Registration types for Sweet Manufacturers.
Prepare and fulfill the document requirement for FSSAI Registration
Fill out an application form on the FoSCos portal. Benefits of FSSAI registration
You can assure your customers about the quality of sweet products as you can establish a license logo.
After obtaining an FSSAI license, you can easily apply for a business loan also.
Conclusion
Every sweet manufacturer and other persons in the supply chain should compulsorily register with FSSAI to ensure the quality of goods to the customers. So, a manufacturer can build his reputation and increase sales.
Moreover, you require any kind of guidance related to the FSSAI Registration, please feel free to contact our business advisors at 8881-069-069.
Download E-Startup Mobile App and Never miss the latest updates reciting to your business.