As we all know FSSAI Registration/License are important for every food business. Therefore, when expanding your business or commencing the food business, it is important to furnish the correct details. Incorrect information such as incorrect addresses can seriously damage your business or bring legal action to your firm. However, one can easily change the address in FSSAI Registration. Thus, knowing how to modify the information in fssai registration can be beneficial. In this article, we will get to know about the complete process to change the address in FSSAI Registration.
What is the FSSAI and What does it do?
The Food Safety and Standards Authority of India (FSSAI) is a government-run organization in India that oversees food safety and standards. It is a public authority that is part of the Ministry of Health and Family Welfare. The Food Safety and Standards Authority of India (FSSAI) was founded in 2006 under the Food Safety and Standards Act, and it is primarily responsible for food safety and regulation in India.
The FSSAI is also concerned with food safety, proper maintenance, and quality. As a result, the Food Safety and Standards Authority of India (FSSAI) issues licenses or registrations to companies that manufacture, handle, pack, and sell food.
Furthermore, the FSSAI aims to ensure food purity and the removal of contaminated and low-quality food. Similarly, the Food Safety and Standards Authority of India (FSSAI) creates rules and regulations for food enterprises in India.
What is the FSSAI Registration?
The Food Safety and Standards Authority of India (FSSAI) has established an obligatory licensing or registration system for all food business operators in India. The FSSAI registration serves as legal documentation of authorization from the government.
The FSSAI Registration provides a 14-digit unique identifier that contains all of the fundamental information about the production state as well as the license or approval of the manufacturer.
An FBOs eligibility for FSSAI Registration is determined by a number of factors. Thus, The FSSAI divides FSSAI registration into three categories. These three categories are as follows.
FSSAI Basic Registration
FSSAI State Registration License
FSSAI Registration Central License
Steps to change address in FSSAI Registration
FBOs must send an online application through the Food Safety Compliance System (FoSCoS) and have a legitimate receipt of the submission with a seventeen-digit application reference number to change an existing FSSAI Registration in India.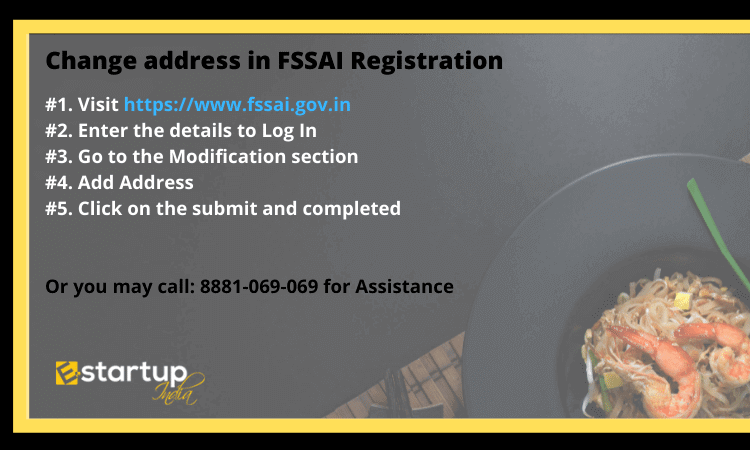 The stepwise procedure to change the address in FSSAI Registration is as follows.
Visit the official website of FSSAI at https://www.fssai.gov.in.
Enter the details and Log In that you received after FSSAI Registration.
Go to the modification tab and apply for the modification in the License tab.
Make the modifications that you want or change the address and click on proceed. Make sure to fill in the correct information that you want to change.
Click on the submit otherwise the application will remain incomplete.
You might also need to submit some forms if you want to modify anything else. In this case, you can acquire assistance from our fssai registration experts at –  8881-069-069
What is the process for obtaining FSSAI registration in India?
FSSAI Registration is a complicated process that needs professional assistance, especially when registering for the first time. As a result, you may receive fssai registration from the convenience of your own home or business by completing the steps below.
Contact our FSSAI Registration specialists to learn more about the document requirements and eligibility requirements.
Upload your documents to our website, WhatsApp, or email and select a package with ease.
Following a successful payment, our FSSAI Registration specialists will validate the documents and submit the FSSAI application.
Finally, an FSSAI officer examines the application and documents, and if no objection arises you will receive your FSSAI Registration or License immediately through online mode.
Advantages of submitting an application for FSSAI Registration in India?
The advantages of registering for and obtaining FSSAI Registration in India are immeasurable. Both companies and customers gain from FSSAI registration. As a result, the FSSAI Registration Number on your food item provides assurance to the consumers.
FSSAI Registration also aids in the completion of legal requirements, allowing you to save time, money, and efforts by avoiding penalties or other legislative actions.
Your firm will also profit from FSSAI registration in terms of branding and marketing. You may utilize FSSAI Certification to show that your products are hygienic, of high quality, and are fit for consumption.
Moreover, you require any kind of guidance related to the FSSAI Registration, please feel free to contact our business advisors at 8881-069-069.
Download E-Startup Mobile App and Never miss the latest updates reciting to your business.