Whether you are a registered business or a small business working solo, trademark registration is important for everyone. Trademark Registration can play a significant role in the success of your business. However, it is a common question: do I need a Private limited company registration or MSME Registration to get Trademark Registration? Thus, in this article, you will know the answer to whether you need a company or not for trademark registration in India. In this article, we will read all about Trademarks and How to get trademark registration without a company in India.
What is a Trademark?
A trademark is an important business tool that helps in distinguishing one business from others. In other words, a trademark is a mark that helps you to differently showcase and highlight your product or service.
For example, a logo can be a trademark. Coca-Cola uses a different logo and Pepsi uses a different logo. Here, the logo acts as a trademark that highlights the difference between Coca-Cola and Pepsi.
Types of trademarks are as follows: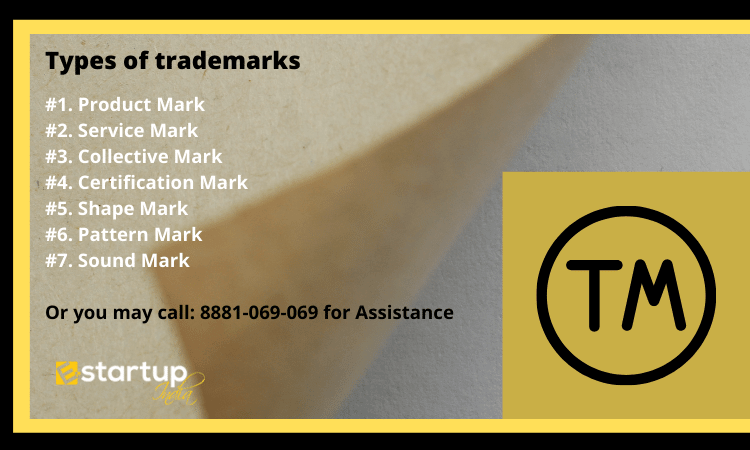 What is Trademark Registration?
As we read above, trademarks help distinguish your business from others. However, other businesses can also misuse your trademark. Thus, to prevent this we have the option of trademark registration.
Having a trademark registration provides you multiple benefits including exclusive rights to use the trademark. Thus, Trademark becomes one of the best ways to safeguard your mark or branding.
Trademark registration is governed by the Trademarks Act of 1999. As a result, you must submit an application to the Registrar of Trademarks in order to get a Trademark Registration Online.
Any individual or legal body can register their intellectual property as a trademark. You can use the ® sign after trademark registration, and the TM logo when filing an application. To better comprehend the notion of trademark registration, learn more about the Difference between Trademark ™ and Registered Trademark symbol®.
Who can get Trademark Registration in India?
The person or proprietor or anyone who intends to use the trademark can have a trademark registration. To do so, the application must be submitted in the prescribed manner to the registrar of trademarks. Thus, any company or individual can get a trademark registration in India.
Should you get Trademark Registration without a company in India?
Yes, you should get trademark registration without a company in India. Even if your company incorporation is in process, you should get trademark registration for the following reasons.
If you're a trademark owner who wants to acquire exclusive use of the mark, you can file a separate trademark registration application with the registrar. This might happen even before the firm is formed. After the business is up and running, the owners' company can start utilizing the various marks collectively or separately.
A trademark or its components can be registered as trademarks if they are registered as different trademarks but under the same proprietor's name.
If you wish to register a trademark but don't yet have a business, keep one thing in mind. You have five years under the law to begin utilizing a trademark.
You don't have any rights just because you came up with a clever name. In the vast majority of circumstances, it is not protected by the law. The names used in economic turnover are protected by additional regulations. You should register your catchy name as a trademark to ensure that no one else uses it. Even if you are not in the corporate world.
Tax optimization can be achieved by filing a trademark for an individual and licensing it to a partnership. This type of limited liability business can use a trademark that you have properly registered. And you'll get paid on a monthly basis.
There is one further advantage to trademark protection for natural persons. Even if the collaboration fails, you still have a valuable asset in the form of a trademark. Because a trademark is not a firm's property, a liquidator of the assets cannot seize it.
Complete Procedure to get trademark registration without a company in India
Call us at – 8881-069-069 to Get the free consultation regarding Register trademark in India and upload documents on our web portal.
Choose a package and pay online on our website if you already have a trademark design. Our specialists will begin a thorough investigation for its originality in order to prevent a Trademark Formality Check Failure.
Following the completion of a successful search, our business specialists will submit online trademark registration applications to the IPR department.
We will send you a Trademark Registration Certificate after your application has been approved by the department.
Moreover, you require any kind of guidance related to Trademark Registration. Please feel free to contact us at 8881-069-069.
Download E-Startup Mobile App and  Never miss the latest updates narrating to your business.