The bedsheet manufacturing business in India is popularly known for home furnishing. Bed sheets manufactured in India are exported worldwide and the biggest reason is the huge number of cotton plantations. In this post, we will be discussing the various steps by which you can successfully start bedsheet manufacturing business in India.
Why start a Bed Sheet Manufacturing Business in India?
India is one of the leading producers of cotton, and that is why it also serves as the leading home furnishing exporter.
The bedsheet manufacturing business has always had a profitable market, and if you are interested in manufacturing, exporting bed sheets, this is the best option.
Procedure to start bed sheet manufacturing business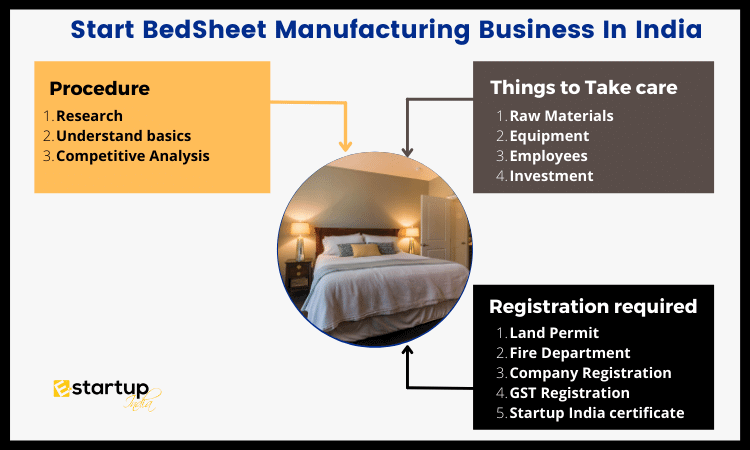 Research on how to start bed sheet manufacturing business
Before starting any business, the first thing that you must do is research the product and get an estimate of the success and failure rates.
Understand the basics of the business
Before starting any business, you must have a basic understanding of the aspects related to the business. You need to learn about the earning potential, the top brands in the business, and the basic requirements for starting a business.
Competitive Analysis
You need to research your competitors and learn about the marketing strategies. You have to know the various products that they are selling and their customer base.
Things to take care of before starting a Bedsheet Business
The manufacturing business is a bit complicated when compared to selling products. For the manufacturing of bedsheets, you need to have access to raw materials, equipment for making the product, an investment source, a manufacturing plant, and employees. You can use your savings or acquire a business loan to get the necessary capital for your business.
Raw Materials
The next step of a manufacturing company is to collect raw materials. For starting a bedsheet manufacturing business, you need to have access to raw materials like threads, cotton, cloth material, and other fabrics like silk, linen, etc.
Equipment
The equipment requirement may vary as per the business model. So, you should research this too.
Double-needle stretching machine with motor
Foot-operated stitching machine
Embroidery machine
Iron machine
Flatlock stitching machine with accessories
Employees
You need to hire workers for various tasks like:
Designers for designing bed sheets
A manager who will handle everything
Accountants who will handle the amount spent and keep track of every rupee
Machine operators
Other factory workers who will help in the manufacturing process
Investment
The approximate cost for setting up a bed sheet manufacturing business is about 10 lakh rupees. However, it may vary depending on the location, commercial unit, and scale of your business. You may also apply for a small business loan using Udyam Registration and Business Plan & Project Report from banks or financial institutes. To get a business loan, you have to provide necessary documents and a well-organized and planned business idea.
Registration required before starting BedSheet Business
To start a bedsheet manufacturing business legally, you need to have company formation in India. For company formation or company registration, you need to have certain documents and permits.
A Land Permit
To set up the commercial unit for manufacturing, you need to acquire a land permit. You can contact the municipal corporation of your state for getting this permit.
Fire Department and Trade License
Before starting a bedsheet manufacturing business, you need to obtain a fire department license from the local authority. The chief executive officer of the fire department will provide you with a no-objection certificate after careful inspection of your business premises. You will also need to have Trade License in order to operate your business.
Register with Ministry of Corporate Affairs
The Ministry of Corporate Affairs is responsible for the registration of your company. You can have any of the following Company Registration depending on your preference and eligibility criteria.
GST Registration & Other Beneficial Registration
You also need to have  GST registration and GST return filing.
Startup India certificate a beneficial scheme for startups can also be obtained to further boost your business in the initial stages.
Conclusion
The bedsheet manufacturing industry is one of the most lucrative businesses. The business offers a good opportunity for entrepreneurs to start something on their own. In the article, we have tried discussing all the necessary steps you need to take before you start a bedsheet manufacturing business in India.
Moreover, If you want any other guidance relating to Company Formation. Please feel free to talk to our business advisors at 8881-069-069.
Download E-Startup Mobile App and Never miss the latest updates narrating to your business.