Most of the construction businesses in India are MSMEs. The Construction business in India requires capital and consistent funds to grow the business. However, many entrepreneurs face difficulties getting Loans for the construction business. Furthermore, entrepreneurs don't know the process of getting an online business loan. In this article, you will understand the necessary information of MSME Loan for Construction Business. You will also get to know the benefits of MSME Loan. Moreover, this guide can help every MSME to get loans working in different industries.
What is an MSME Loan?
MSME Loans are simply business loans given to businesses having MSME Registration or Udyam Registration.
The other popular name for MSME Loan is SME loan. One can use MSME Loan for a variety of business purposes including:
Business Expansion
Implementing New Technology
Bringing New Machinery
Paying Staff Salary
Bringing New Inventory
Upgrading Business Model
Investing in Fixed Assets etc.
The MSME Loans are special schemes working in India through government channels to improve and boost the Indian economy through the MSME Sector. These loans are unlike the other business loans and provide special relief and benefits.
Benefits of MSME Loan for Construction business and other industry
MSME Registration and MSME Loan both benefit every business. The significant benefits of MSME Loan for construction business are as follows:
You may acquire MSME and SME Loans starting at 50,000 and going all the way up to 2 Crore using our online platform.
You can contact us at Online Business Loan or 8881-069-069 to get a business loan with the minimum paperwork and without visiting any office or bank.
We believe in assisting you with rapid and hassle-free growth, thus we have eliminated every step that may delay down a loan acceptance.  You can even get an MSME Loan in a day.
Construction Businesses need not worry about Collateral as some MSME Loans for Construction businesses are unsecured. In simple words, if you fulfill the eligibility criteria, you may get a Collateral Free Loan.
We compute the best possible financing rates for your construction business using financial data analysis. There is no human interference in the entire process, so the rate you receive is reasonable and based on your company's capacity to pay back the MSME / SME Loan or CIBIL Score.
MSME loans allow you plenty of time and flexibility in repaying your company loan. Our loan terms range from one month to 36 months. You also have the option of repaying in monthly, bi-weekly, or EMI payments. This synchronizes your loan repayment with your credit terms.
You can also use the online business loan or MSME loans to boost your credibility in the market. Credit rating agencies will notice your growing earning potential. As a result, it will enhance your company's credit rating, allowing for more investment channels and business financing.
Thus, you can get the several benefits of MSME Loan after Udyam Registration
Benefits of MSME Registration?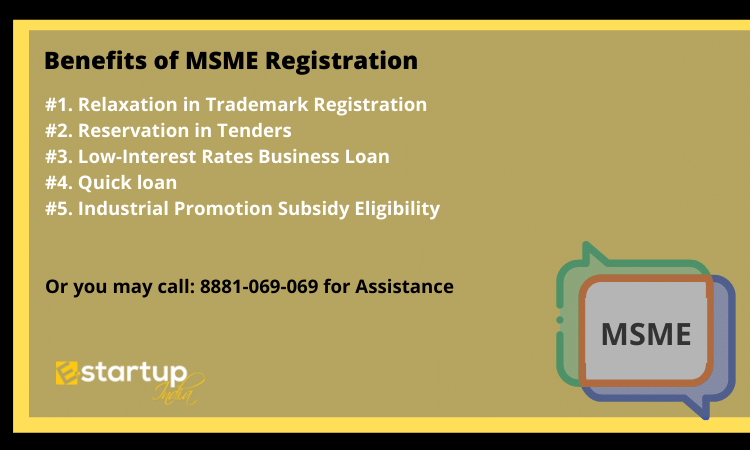 Udyam Registration or MSME Registration is a registration provided by the Indian government. The Udyam Registration allows businesses to register with the MSME Department and avail several benefits offered. For example, Udyam Registration offers:
Relaxation in Trademark Registration and Patent Registration Government Fees.
Eligibility Fulfillment for Credit Support Schemes.
Reservation in Tenders
Low-Interest Rates on Business Loans
Quick Loan in 59 minutes
Industrial Promotion Subsidy Eligibility
No delayed payments from the buyer
Availment of Tax Allowances
Thus, you can get huge benefits after getting the Udyam Registration for your construction or any other business. To get the Udyam Registration and MSME  Loan, you can contact us at [email protected] and share the document required.
Document Requirement for Udyam Registration
PAN Card
Aadhar Card
Address Proof or Details with complete details such as District and PIN Code
Bank Account Details
Document Requirement for MSME Loan
MSME Registration or Udyam Registration
GST Registration if applicable
Previous twelve months bank statements
Proof of previous two years ITR Filing
Moreover, you require any kind of guidance related to the MSME Registration,  please feel free to contact our business advisors at 8881-069-069.
Download E-Startup Mobile App and Never miss the latest updates reciting to your business.