When it comes to commercial prospects, Delhi, the capital city of India, is at the top of the heap. This is the ideal moment to start a business or to join one of these rising sectors through Online Company Registration in Delhi.
Why have Online Company Registration in Delhi?
The capital city of India, New Delhi, is home to thousands of businesses and a sizable population. Due to its status as India's capital, New Delhi has access to the majority of the country's business formation resources.
There are individuals from various walks of life in the city. Hence, Company Registration in Delhi is highly beneficial in every aspect.
This is an easy and quick one to do, especially if you do it completely online. In addition, all document submissions are made over the Internet.
Benefits of Online Company Registration in Delhi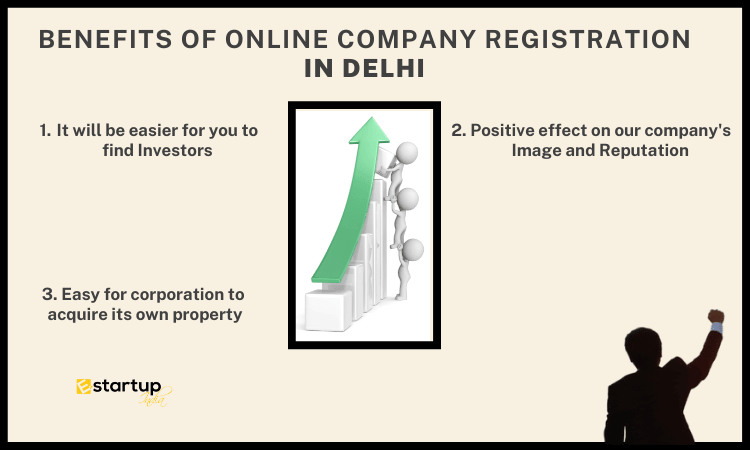 Owners of limited liability companies are solely liable for the amount of their invested equity in the business when it comes to repaying the company's obligations.
It is possible for a corporation to acquire its own property and begin legal proceedings since it is a distinct legal entity.
When you start your business, it will be easier for you to find investors and get money from them to fund it. Investors are more willing to put their money into a formally organized firm than they are into an unorganized one.
It has a positive effect on our company's image and reputation. A company's incorporation indicates that it has a long-term future and is devoted to responsible management. Customers, clients, and contractors alike benefit from the assurance it provides.
To distinguish one's firm from those conducted by a single individual, it is better to establish oneself as a private limited company.
Types of Online Company Registration in Delhi
Private Limited Company Registration
Private business registration is one that has a minimum of two and a maximum of fifty members. Private company registration in Delhi is one that does not allow the general public to purchase stock in the business.
Furthermore, A Private Limited company registration must have the phrase "Private Limited" in its name.
This type of corporation has several advantages, including no intervention from the public or governments, no obligation for the issuance of a prospectus, distinct legal existence from its members, and the ability to engage in contracts in its own name.
One Person Company Registration
One Person Company Registration (OPC) in India is one of the easiest kinds of corporate organizations to maintain if you are only responsible for running the firm.
As a result, OPC is both a sole proprietorship and a corporation all rolled into one entity.
It is possible to set up a firm with only one director and shareholder, which is known as an "OPC."
The Companies Act of 2013 established this notion for the first time. As a result, an OPC may be described as a sort of sole proprietorship firm that allows one individual total control over a business while keeping his or her obligations and responsibilities limited.
Limited Liability Partnership Registration
LLP Registration is a sort of partnership that is owned and operated by a corporation. The abbreviation LLP refers to a type of limited liability company. It is possible to create a Limited Liability Partnership with two or more partners.
Partners in an LLP are shielded from liability for their co-negligence partners or bad behavior.
Partnership Firm Registration
A partnership deed, which is a legally binding agreement that must be signed by all partners, governs a partnership firm registration.
Disclosing the firm's name, partners' details, sort of business, location, and other relevant information is accomplished through the deed.
Two or more persons can form a partnership business without much difficulty in accumulating a minimum capital requirement, as the Act has no such requirement.
Sole Proprietorship Registration
If just one person owns and operates a company, it is a "proprietary business," and the individual who manages the company is known as a proprietor. In India, the proprietorship is the most popular kind of company.
The business may be started and run with few regulatory requirements. Due to the legal status of a  sole proprietorship registration, the owner is normally required to sign all agreements in his or her own name.
The process to Company Registration in India
Process for Company Registration in India is simple through our platform. All you have to do is submit your documents online and choose the relevant package. Our professional experts will submit the duly filled application to the authorities and email you all the incorporation documents.
Moreover, If you want any other guidance relating to Company Formation. Please feel free to talk to our business advisors at 8881-069-069.
Download E-Startup Mobile App and Never miss the latest updates narrating to your business.