The main and ultimate objective of the trademark is to separate and distinguish trademarks or service marks related to products, services, and substances in certain fields. With the trademark registration, one can certainly boost business brand hassle-free and claim rights. Trademark Application is classified under 45 different classes which are based on the kind of business activity. In this article, we will discuss Trademark Class 8 which relates to the business of Hand Tools and Implements
A Basic about Trademark 
The Trademarks Act, 1999, represents as, a phrase, logo, design, and sequence of colours or shapes, etc. and that symbolises the uniqueness of a brand or the product and separates from competitors. It is a globally acknowledged trademark and is the most valuable asset of a business. With a novel Trademark, users can quickly distinguish your products or services from different competitors' products.
Trademark Registration for Machines and Machines Tools: Trademark Class 7
 Significance of Trademark Registration
Trademark Registration is mandatory for many reasons such as –
A different Brand logo is the most valuable asset of any business.
Users can swiftly recognize your product or services easily.
Preserve your brand logo from misuse or duplication by others.
Also, secure your business, products, and services.
 Trademark Classes
Trademark registration consists of 45 classes which are based on the nature of goods and services that are grouped into different classes. Each class needs a different trademark registration. This is a classification of almost 80,000 products and services and is classified into two sections – Classes for Goods & Classes of Services. Find out a full list of 45 Classes 
Now, we will understand about Trademark class 8
 Trademark Class 8- Hand Tools and Implements
Trademark Class 8 is used for Hand tools and implements. It mainly includes Cutlery of valuable metals Electric razors and clippers (hand instruments), Keen-edged and Blunt Weapons Hand Tools for Cutting, Grinding, Sharpening, and Surface Treatment Agricultural and Gardening Tools
For example – Philips Electric Razor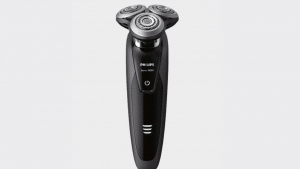 Goods come under Trademark Class 8
The following goods are classified under Class 8:
Cutlery of precious metals;
Electric razors and clippers (hand instruments).
Therefore, it covers mainly hand-operated implements applied as tools in the respective professions.
 Goods not come under Trademark Class 8
The goods that do not come under Trademark Class 8 are:
Certain special instruments;
Machine tools and implements driven by a motor;
Surgical cutlery;
Sidearms being firearms;
Paper knives;
Fencing weapons.
Trademark Registration for Common Metals and Alloys: Trademark Class 6
In case you require any further guidance with regards to Trademark Registration, please feel free to contact us at 8881-069-069.
Now you can also Download E-Startup Mobile App and Never avoid the latest updates relating to your business.