Trademark is a brand name specifying the unique characteristics of a product of any organization. Geographical Indicator is a term used to indicate the geographical uniqueness of a product.  Names such as Ford and Puma are trademarks, whereas Assam Tea and Coorg coffee are geographical indicators.  The procedure of trademark registration and GI registration is different. As an entrepreneur, you should know the difference between trademark and GI. In this article, you will understand the Difference Between Trademark and Geographical Indication.
What is a Trademark?
Trademark is obtained to indicate that the product manufactured by an organization differs from the other organizations. Trademark is a symbol, phrase, logo, or group of letters and numerals representing the uniqueness of a product or organization. The documents required for trademark registration online are Form 48 duly signed, Incorporation or Partnership Deed, Logo copy, address proof, Udyog Aadhar Registration Certificate, etc.
To obtain a trademark, follow these steps:
Select a brand name
Choose an attorney
Verify the brand name
File your Trademark with USPTO
For Register trademark in India under Sec 59(rule 98), you should submit 5 copies of your trademark along with the application with Form TM-38.
You can also read our other articles at:
What is Geographical Indicator(GI)?
Any person, organization, manufacturer of a particular geographical region who deals with the primary producers can apply for GI application. The GI Act is administered by the Controller of General Patents, Designs, and TradeMarks. Geographical Indication according to the TRIPS agreement is defined as a good or a product originating from a particular place that is highly commendable than the products of the other locations. They can become authorized dealers for 10 years after registration. Along with the application, they should send a statement of the case along with GI-I and an affidavit.
Learn the Difference between Trademark and Geographical Indication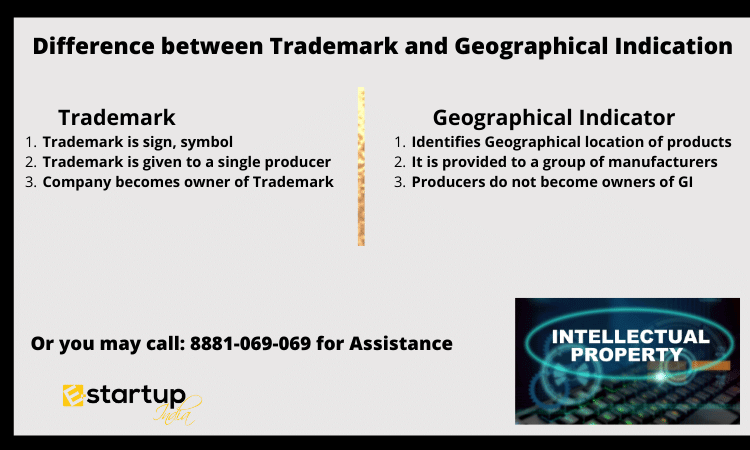 The difference is written below: 
| | |
| --- | --- |
| Trademark | Geographical Indicator |
| Trademark is a sign, symbol, or characteristic of a product or a service of a business organization. | It includes a geographical name identifying a natural good, agricultural well, or any product manufactured using the natural good available in a geographical location. It also refers to other activities than manufacturing such as processing, preparation, improving quality, etc |
| Trademark is a title given to a single producer or a manufacturer | Geographical Indication is provided to a group of manufacturers or producers of a particular geographical region. |
| An organization can obtain a trademark for goods and services. | GI refers only to goods. |
| The governing bodies for trademarks in India are The Trademark Act 1999. It is administered by the Trademark Registry 1999. | In India, the GI laws are governed by the Geographical Indications of Goods 1999 and administered by the Controller General of Patents. |
| To register a trademark in India, the manufacturer or producer should portray their creative skills to produce something new and distinguishable. You will need Logo Designing for Trademark Registration  | But to obtain a GI, the producers should consider the unique characteristic of the good itself of their geographical location. They should mention factors such as climate, soil, topography, etc that are responsible for such production. |
| The actions for trademark infringement according to the court proceedings include temporary or permanent injunction, destroying goods, legal proceedings cost, and the profits are also seized. | The action undertaken for GI infringement is temporary and permanent injection. |
|  A trademark can include a geographical location and sometimes the false features of a geographical location. | But a geographical Indication cannot include a trademark. A GI cannot contain any false information about a geographical location. |
| The organization becomes the owner of the goods or services after trademark registration. | The producers or the manufacturers do not become owners as the goods indicate the geographical location GI is public property. |
Conclusion
Although both terms relate to the unique characteristics of a product, they are different in many ways. Different laws are applicable to trademark and GI and the procedure for filing also differs.
Moreover, you require any kind of guidance related to Trademark Registration. Please feel free to contact us at 8881-069-069.
Download E-Startup Mobile App and  Never miss the latest updates narrating to your business.